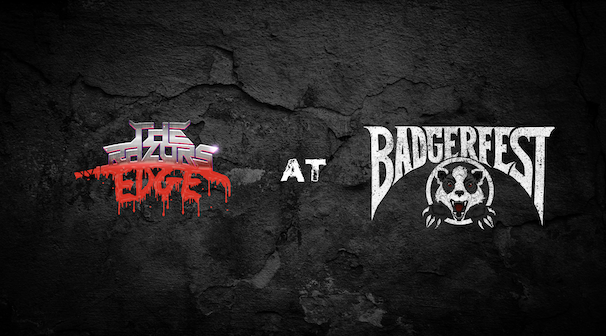 Live Review: Badger Fest – Friday
15th October 2021
Words: Richard Oliver & Paul Hutchings
Photos: Paul Hutchings
Now in its fourth year, Badgerfest is a three day festival held at The Breadshed in Manchester and brings together some of the finest talent in the UK rock and metal underground right now. We headed up north to check it out and enjoy some killer music.
Kicking things off were Badger And The Mushrooms who are a covers band featuring the eponymous John Badger himself on the drums. They played a selection of rock club classics such as Foo Fighters, Metallica, Dio, Rage Against The Machine and Disturbed. A party band designed to get everyone in the mood which they very much succeeded in doing.
Next were Brute Allies who were a heady concoction of old school thrash and groove metal. This was their first show since lockdown and they played with the enthusiasm you would expect. Some of the Lamb Of God and Pantera influences were a bit on the nose and a muddy sound robbed the guitars of some of their power but this was a set that demanded headbangs!
As you would expect with a name like Grief Ritual they are a relentlessly bleak sounding band. A devastating mix of sludge and hardcore with a blackened edge, Grief Ritual pummelled the crowd into submission with a crushing set of sheer heaviness with all hope and light crushed into nothingness. It was intense but absolutely splendid.
Bristolian merchants of gore and violence Basement Torture Killings brought the carnage to Badgerfest with a blood-soaked and blast-beat infested half hour of brutality. Influences of early Carcass were prevalent and it was a bit single minded but vastly entertaining and the crowd loved every second.
Agvirre brought things down after the brutalty of Basement Torture KIllings but not in a good way. Their mix of post-hardcore and post-black metal lacked the emotional intensity of similar bands such as Underdark and Svalbard and instead came across as quite jarring. Sadly this was not a set for me.
The disappointment of the previous band was fully redeemed by headliners Foetal Juice. Playing on home turf the band gave it their all with their humorous yet ferocious brand of death metal. The pit was in full flow, heads were banging and hair was flying everywhere (this reviewers included). Despite how unseriously that Foetal Juice take themselves there is no denying that they are one of the most essential and killer death metal bands in the UK right now. Foetal Juice inject a much needed sense of humour into death metal and to be honest it is all the better for it.