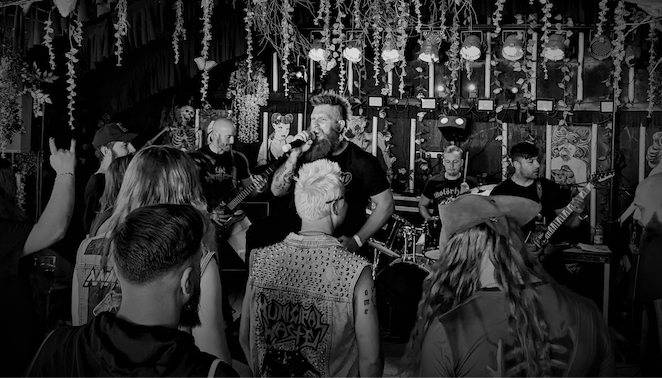 Feature: The Resurgence of Live Music in the Underground
by Liam Barlow
Liam, who in his other life runs Unearthed Music - an artist management and live event promotions company - reflects on the resurgence of live music on the underground scene.
The days of pre-Covid gigs are a thing of distant memory for most, but I've been doing some serious reflecting these last couple of weeks as 2022 draws to a close and thinking back to when Unearthed Music was in its early days. Maybe some have chosen to remove the fact that underground shows were at a record low for attendance between December 2019 and March 2020, Unearthed Music hosted a few shows in Derby in that period and it was a struggle to break even, and I know it was similar for a lot of my colleagues in the UK too.
Then came the pandemic, the death of live music, the band killer, the end of so much for so many. It was a horrid 15 months of zero live shows, and even when they initially came back it was seated shows or restricted, plus there was the whole pilot idea of festivals (which may or may not have worked I don't think figures were ever released from Download 2021).
Now let's think after restrictions lifted, there have been sold out underground shows across the country, more bands popping up all over the place than ever before, bands and agencies supporting each other (in most cases, don't get me started on this), and just a better overall atmosphere of people supporting the scene.
As bad as Covid was for everyone around the world, the fact that majority of fans don't take live music for granted anymore is something which has really benefited both bands and promoters all over the globe. Unearthed Music has seen more bands and agencies wanting to get back into the UK and tour and Unearthed are sorting out sending our own roster bands over to the mainland, more on that soon!
It's a weird and wonderful thought to have to think about what the UK scene would have been like if the pandemic had never happened. I for one used being locked down to self-teach and build Unearthed Music to what it is today, I know a lot of bands used the downtime to write and get back in touch with what they wanted to do and achieve, so what if that time had never been available… who knows what would have happened?
2023 is going to be a great year for live music, with so many shows and festivals already booked in and announced throughout the scene I'm so excited to see what else comes through, especially now that Covid is no longer looming over the top of booking in advance or making plans!
Photo credits: Paul Hutchings