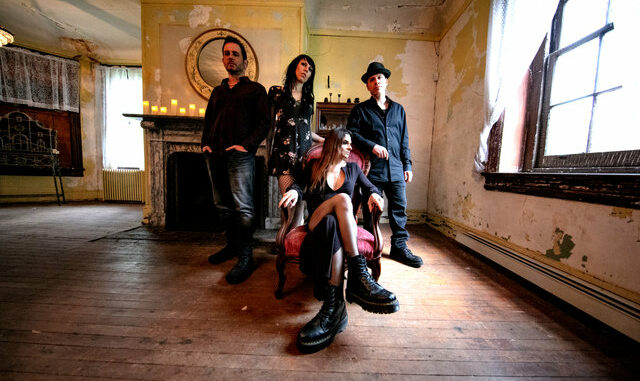 Album Review: Life of Agony - The Sound of Scars
Reviewed by Dan Barnes
The story of Life of Agony is as bewildering as their music and as compelling. Birthed from the New York scene of the early nineties, Life of Agony were often wrongly considered members of the emergent hardcore movement. In truth, their 1993 debut, River Runs Red, has more in common with the alternative scene than it does with Agnostic Front or Cro-Mags.
Twenty-six years on from the debut and Life of Agony return to the concept with The Sound of Scars, a sequel album of sorts, but one which is very much crafted from the contemporary. Much has changed in the Life of Agony family since 1993 but the one thing that has remained a constant is the unbridled emotion running through their music. The Sound of Scars bubbles with emotional turmoil; from the four short, story vignettes of the narrative, dealing with the mental breakdown of an unnamed protagonist, to the ten songs themselves.
There is a sense of despair about the record, with Mina's voice spitting bile or laying bare her heart across every song. Her words either punctuated by staccato guitar riffs, as on 'Scars', or elevated to loftier heights, as on 'Lay Down'.
In amongst the fragile can be found moments of the Life of Agony of old: 'Empty Hole' is a faster, heavier track and one which recalls the spirit of the more sludge-oriented debut. Mina's vocal range moves from the low to the high as the track pounds away with the incessant chug of Joey Z's guitar; amid the brooding angst, this is a sure-fire crowd pleaser. New girl on the sticks, Vernoica Bellino shows her chops on the fiery 'Eliminate' and reveals her softer side on 'Once Below'.
It would be easy to paint The Sound of Scars as the work of a group of tortured souls, that every song is a morose contemplation of the futility of existence, but that is far from the case. 'Weight of the World' features a countrified opening riff and, in spite of its dark subject matter, feels somewhat uplifting. Final track, 'I Surrender', is the accumulation of the album's themes and ideas. A track which utilises a host of different instrumentation as it increases in urgency to deliver the closing matra of No Faith - No Truth.
Life of Agony have always been a band with lots to say and one which the music world needs more now than ever before. The Sound of Scars is in turn fragile, raw and haunted and yet defiant in its stance as being a statement that echoes the band's ethos of Here We Are - Take Your Best Shot! . It's a musical journey that rewards retreading and, like all the most worthy pieces of art, one that will draw the listener back time and again.
Life of Agony release 'The Sound of Scars' on October 11th via Napalm Records