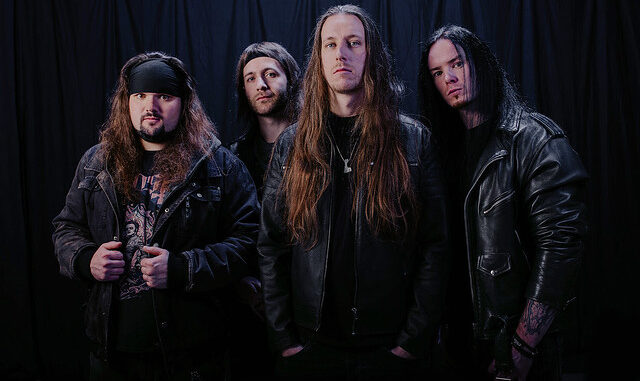 Album Review: Helldown - In Deaths Hands
Reviewed by Paul Hutchings
The Swansea based quintet's sophomore EP has been a while in the making but despite having been in existence for over six years, the band has rightly taken time to get then line-up settled before racing into the studio. Whilst all bands need some material to promote, a poorly produced EP is likely to cause more damage. So, kudos to Helldown for waiting three years since their self-titled EP. I've seen Helldown live and they bring a genuine old school thrash style to their shows.
'In Deaths Hands' (missing apostrophe anyone?) captures their sound well but also exposes the limitations that the band have. 'The Unnamed' kicks off proceedings, the longest track at 4:37, and it's immediately clear where the band's influences come from, with Slayer, Pantera and UK thrash titans Xentrix, Acid Reign and even Evile all springing to mind. There is plenty to get stuck into with thick thrashy riffs, abundant levels of groove and a decent production that allows the band to express themselves. Lewis Larkham displaying some neat guitar work whilst solid drumming from Ross Thomas cements an overall cohesive approach. Although it isn't ground-breaking in any sense, Helldown's thrash is certainly enjoyable although vocalist Ben Evans (who also plays bass) doesn't have the strongest style, his vocals possibly the weakest link on the EP.
'Mortal Shell' follows, another fast-paced song which features a strong breakdown towards the middle with Thomas' drumming once again impressing. I'm less keen on the vocals here though, the shouting delivery a little routine. 'Mortal Shell' segues nicely into 'Heretic', as the band pick up a head of steam propelled forward by Evans thundering bass lines. 'Heretic' is however, a little bland and whilst their thrash style has plenty of beef behind it, it doesn't really capture the imagination with any great urgency. Closing with the powerful 'Flames of Heresy', a song that is at times slow and brooding behemoth, whilst at other times being ferociously fast, there is once more slight scarring from the rather staccato vocal delivery which whilst almost traditional in terms of style, doesn't really appease those looking for something little more original. Musically tight, Helldown sit amongst a mass of other UK thrash outfits. Whether they have enough to fight their way out of the sewer remains to be seen.
Helldown release 'In Deaths Hands' on January 17th 2020.