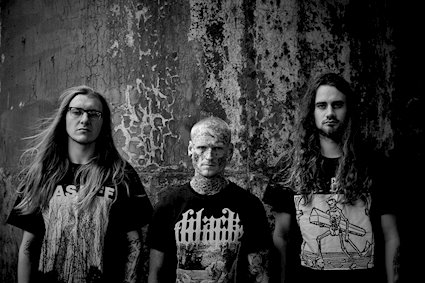 Album Review: Leeched - To Dull The Blades of Your Abuse
Reviewed by Paul Hutchings
I mentioned to a friend that I was going to review this beast recently. He'd just reviewed it for another site and had also wrapped his ears around the band's 2018 debut 'You Took The Sun When You Left'. His words came with a health warning. Be prepared to be crushed. How right he was. The Mancunian's sophomore release is a relentless, vicious assault to the senses from the opening distorted voice on 'The Hound's Jaw' until 36 minutes later you crawl, exhausted away from closing song 'Black Sun Ceremony'. 'To Dull The Blades of Your Abuse' is as intense a ride as you'll get all year. The impenetrable bleakness masks a barely controlled level of aggression which threatens to boil over at any moment. 'The Hound's Jaw' is brutal, the thick sludgy aspects of the band's violent hardcore style slightly masking the sheer power that this three-piece generate. Jagged, frenetic patterns accentuate the distortion and discomfort you may experience when listening to Leeched. It isn't meant to be comfortable and it certainly isn't. Changing pace throughout 'The Grey Tide', this is a raging inferno of emotions, with the slow sections as heavy as anything ever produced by legendary Sludge lords from across the pond.
Even if you don't find the punishing rhythms and chaotic changes in direction palatable, the appreciation of a band who are straining every sinew, nerve and muscle to push their music to the very edge of their ability is mandatory. 'I, Flatline' for example, doesn't gel into anything resembling a standard framework; no, it's a nasty little bastard but not one that pinches your gear behind your back, but one that grabs it right in front of your eyes, punches you right between the eyes and then dares you to do anything about it. 'Earth and Ash' simply levels with its volcanic eruption of pure hatred. This is rage with a capital RAGE. The production by Joe Clayton at No Studio is fantastic, just like their debut release and the quality enables the dragging visceral guitar parts of Judd Langley to arrive with a venom that is ungodly. The bass of vocalist Laurie Morbey is so deep and deafening that submarines in the North Sea must have felt the tremors during the recording whilst Tom Hansell's battery from behind the kit is just insane, merging multiple blast beat segments with pulverising elements of almost black metal. If you get hold of this album, be prepared to be challenged. It is unpleasant, bruising and downright dangerous.
To Dull The Blades of Your Abuse is released on 31st January on Prosthetic Records