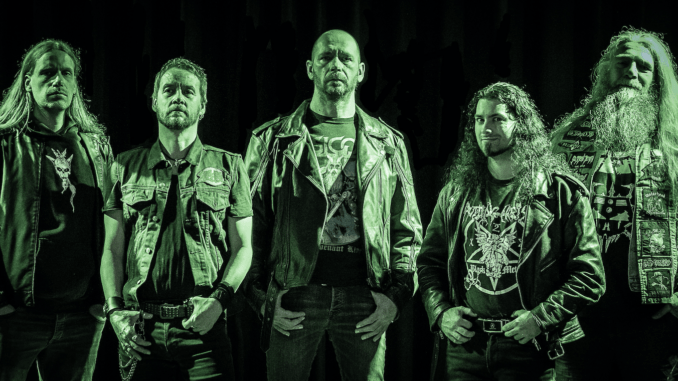 Album Review: Savage Blood - Downfall
Reviewed by Gareth Pugh
Savage Blood are a 5-piece band from Osnabrück, a city in the state of Lower Saxony in north-west Germany, and I must admit the name 'Savage Blood' didn't exactly excite me a whole lot, I felt it sounded more than a bit generic. But on seeing the cover art on 'Downfall' I changed my mind somewhat, this striking creation by artist Diego Gedoz de Souza is stunning, depicting a tentacled skull floating in a green tinged other dimension, honestly my words can't' do it justice.
On further research I found that 'Downfall' is the band's debut album, but they have also released a self-titled EP back in 2016, I also discovered that 3 of the band, Peter – Vocals, Markus – Bass & Marc – Drums, were in the very well respected Power metal band Enola Gay, now disbanded, and have added new blood in guitarists Jörg and Timios to form Savage Blood.
Savage Blood play a style of metal which is rooted in the classic, but with large doses from both the thrash and power metal genres. The album is extremely well produced, by the band itself, and mixed and mastered by Jörg Uken, it was recorded at their local Burning Flag studio. It's a very professional sound, with everything well separated and crystal clear, with a good melodic yet crunchy guitar sound, while still leaving room for the bass and drums. The production is certainly a step up from the more "rough and ready" (yet still good) sound of their E.P.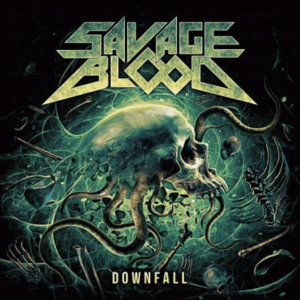 Song writing wise this is a very solid set of tunes, the first thing you notice is the high quality of the musicianship and strength of Peter's vocals: he's a very powerful presence, with a strong clear set of pipes, in the vain of Dickenson, Halford, Tate et el, without the super high falsetto. In fact, the closest match may be Tim 'Ripper' Owens in his middle register.
Opening with the classy title track, with a very catchy chorus and a strong riff set, the band lay down eight very mature tracks. They certainly know their craft, and the album grows on you more and more with repeated listens, each song has its own identity, and collection of hooks, riffs and melodies. I personally prefer it when the band speed it up a bit and put their foot on the accelerator, and hence my favourite tracks are the excellent 'Violent Attack', which gallops along nicely, the thrashy, yet still very melodic 'We Sweat Blood' with a chorus designed for the live show, the heavy, punchy 'Release the Beast' (oo-er), and the very powerful closing duo of 'Die in Spirit' and 'Guardian Angel', again the later with a great singalong chorus, and a driving bass line, while the former rattles along at a good old tempo. There honestly isn't a bad track on this album, but mention must also go to the album centre piece 'Queen on the Run' where the band flexes a few different muscles and uses some slower tempos to great effect. The band have been very wise in keeping the total run time to around the 40-minute mark, using every moment to full advantage, leaving the listener wanting more, rather than boring the listener by outstaying its' welcome.
This is an extremely well written, well produced and well performed album in this genre, if I was being ultra-critical it's that there's' nothing new on offer here and the band don't take any risks, but as this is a debut, and this is obviously the style the band enjoy playing, then that's just my personal opinion. This album was a very pleasant surprise, and a pleasure to listen to and review, and I wish the band all best for the future, and I'll definitely be keeping an ear out for them. Very much recommended