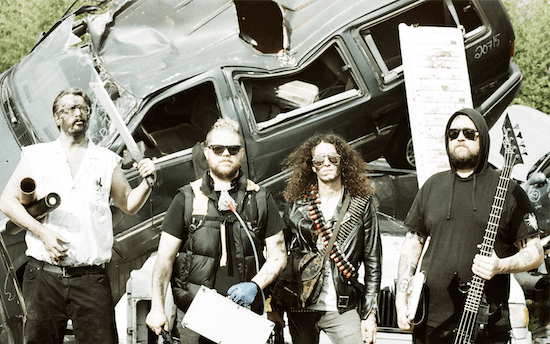 Album Review: Expander - Neuropunk Boostergang
Reviewed by Gareth Pugh
Expander are a pretty unique four-piece hailing from Austin, Texas. They describe themselves as thrashpunk, metalpunk or sometimes neuropunk. I have a feeling that they might not be what they seem though, I have a suspicion that they might be from some dystopian future and have escaped back in time to give us a bleak insight to our own desolate fate. At least that's the reaction I get from the futuristic soundscape they've created.
The band blend the energy and simplicity of punk with pseudo-thrash riffage, and incorporate industrial sounds, synths and possibly samples into the mix to create a unique twist to their sound. On first listen I must say I found it difficult to differentiate between the individual tracks, it was a bit of a blur, with every track seemingly to merge into one long entity. On subsequent listens though I was able to realise that each song is unique, although using a similar basic template. The band are super-tight, the guitar, bass and drums are locked and intertwined to create one well synchronised machine. The band use subtle and not so subtle instrumentation to create a very intense and compelling listen. Standout tracks for me were 'Megacorp', 'Cryptosteal', the title-track and album closer 'C.O. III: Quest for a Future' which I think stands for 'Cold Orbit 3', the third part of a possible trilogy, continued from their debut full length 'Endless Computer'
I went and had a listen to said debut and if you're familiar with that album, the band have continued and have also developed the style they started there, but 'Neuropunk Boostergang' boasts a much stronger production than its predecessor.
So, am I a fan of Expander? The answer would have to be, both yes and no. I certainly appreciate what the band are trying do, and they are an extremely talented bunch of guys with a unique, and strong collective vision. Is it something I would listen to on a regular basis? Umm, no I must be honest, it's probably not really my thing. But I do urge you to go and listen to this singular group, because I think quite a few of you might really like it, but it's a choice you're going to have to make up your own mind on. Finally I really wish the band the best of futures, because even though they aren't my cup of tea, I think it's really refreshing to hear something new.