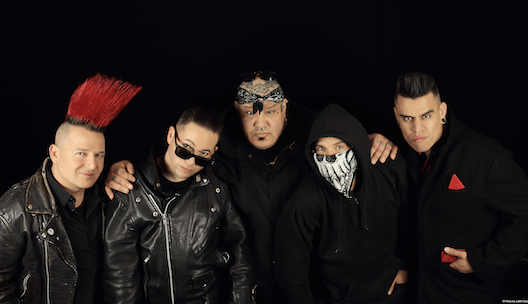 Album Review: Mad Sin - Unbreakable
Reviewed by John Caffrey
They aare back after 10 years; Mad Sin release a new album and its a blinder. This Berlin based psychobilly band formed in 1987 and have been rocking their fast and furious rock 'n' roll ever since. An amazing live band, whom I've seen a number of times, wrecking in the pit, feeling the blast of fire shooting out the top of the double base in a Rammstien style performance.
After a short intro to 'Unbreakable', the opening track 'Are You Ready' smashes into a fury of driving double base and supercharged drums. The new band sound great and give this album a new fresh impetus, without losing the traditional Mad Sin sound. Song two 'Moon over Berlin' is a slower rock 'n' roll style tune with a slight country feel, the call back verse will work well live. A style repeated on 'Shine A Light'. These songs break up the album quite well.
Track three 'Alles Ist Schlecht' (translated to it's not all bad) is sung in German but works really well the signature driving base and drums and wailing guitars drive the song and is the main sound throughout this album. Songs 'Aggression', 'Till Death Us ?Do Part' and  'Unbreakable' keep to this formula, which is not a bad thing as it makes the album really listenable
A Psychobilly take on the Madness classic 'House of Fun' is great addition to the mix, and sits well with a ferocious bass line and Koefte Devilles cool vocals.
Overall the album is a great representative album of the modern Psychobilly style if you liked The Meteors, King Kurt, or even the Misfits and all that Psychobilly Horror punk scene in the 80s and 90s you will love this album. If you missed that scene at the time try this album, it may just surprise you, and if we can eventually get to see bands live again I urge you to check them out, as they are an incredible band to see make sure you get in the pit to get the full experience. No skipping ring at these gigs just old school wrecking