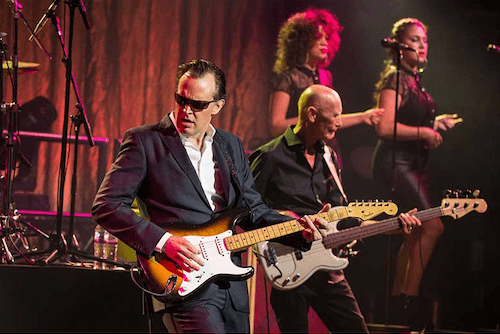 Album Review: Joe Bonamassa - Royal Tea
Reviewed by Carl Black
It's always easy to pigeon hole guitarist who release solo albums. It's easy to say they always want to be the centre of attention, self-serving, star of the show, the "wow, just look at me" types. It takes a true guitarist to melt into the back ground and let the songs take centre stage. Joe Satriani does this excellently. Joe Bonamassa follows suit. No doubt he can play the guitar like he's ringing a bell, but can he carry a song? Can he carry an album of songs?
The short answer is yes. Written in London, recorded at the world famous Abbey Road Studio's, this is a man living his dream and playing like his hero's. There's more variety than Netflix on this, his 16th solo album. We get a bit of everything on 'Royal Tea'. The title track is a fuzzy, blues number, littered with female vocals to give it that bit of soul. A dirty bass line runs through 'Lookout Man' which features some Mississippi saxophone that sounds killer. Joe keeps the commercial side ticking over with radio songs 'A Conversation with Alice' and 'Savannah' Slow burner 'Why Does It Take So Long to Say Goodbye' gives our upstate New Yorker, the chance to flex his soloing muscles. And 'Don't Think She Would Do It' has more than a nod to Jimi.
However, it's the album opener that steals the show. 'When One Door Opens' is a bond theme, prog, blues stomp that demonstrates the bravery and willingness to push the boundaries and express himself beyond his peers and critics. His reputation as a risk taker proceeds him. Big risk opening the album with such a track, but it works beautifully.
The influences are there to hear. The production, song writing and playing is not in question. Tasteful, contemporary, and classy. That's a description of the music, album and the MAN.