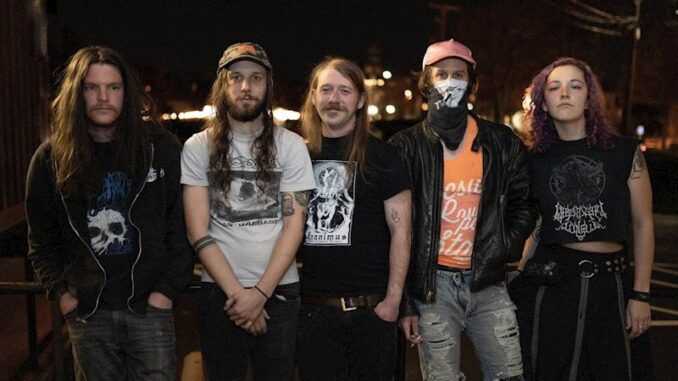 Album Review: WitchTit - Intoxicating Lethargy
Reviewed by Neil Bolton
The gloriously titled WitchTit are a relatively different band to the one that entered the studio to record a split release with Etiolated. The main difference being the addition of the gloriously talented singer and lyricist, Reign.
The opening track, 'Silver Tongue' is the first time on the album we hear this newer take on the band. Slow doom metal clouds begin to form with a menacing, broody atmosphere before Reign takes her place in your head. Her vocals elevate this already accomplished doomy music to a mystical level. It's not long before the tune speeds up a little
drawing in a N.W.O.B.H.M. touch before returning to the anthracite doom of the beginning.
The gloomy music gets a waft of witchcraft with Reign's voice soaring in 'Crimson Tide'. Her lyrics revolve around the fear of getting caught up in the pursuit of the pleasures of life; that she will never truly be alive, hence the album title, 'Intoxicating Lethargy'. The album track carrying the same name puts the brakes on harder for a moment; displaying an evenly tempered and skilled drummer, Patrick Cotter, with both guitarists, Daniel Brown and Nate Stokes, providing classy atmospheric bed for the lyrical poetry to rest upon. As this tune slowly grows in intensity your head is compelled to bob, followed by a swaying hypnotised body, with Justin Hill's base conducting the convulsions.
'Traveler' begins moody, yet inviting; and by now you will be aware you are once again about to be enveloped in excellent musicianship and glorious vocals. A mesmerising groove develops and the listener is lost in the gloom.
'Home Invasion' finishes off this collection of dark tales with sharp vocals telling us she is the one who is slowly creeping, while the doom score once again floats through the air. This track reaches its horrific conclusion with the call "You own a gun, and now you know why" mixed with a glorious guitar solo topping off a very enjoyable doom/N.W.O.B.H.M. album.
WitchTit have provided an album that causes me to use (notice I did not say overuse) the word glorious. It is subtle and bold in equal measure; managing to be dark and glorious along the way.
'Intoxicating Lethargy' is released on March 12th! Head over to bandcamp to grab yourself a copy!