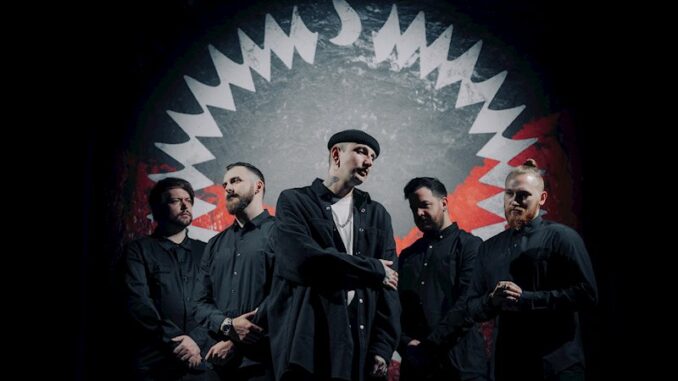 Album Review: Our Hollow, Our Home - Burn In The Flood
Reviewed by Dan Barnes
It's been a long road since the release of their sophomore and last album, the critically acclaimed In Moment // In Memory, and Our Hollow, Our Home have, like many bands in their position, found it difficult to maintain momentum in the current climate. But the Southampton-based band have used the time wisely and are releasing Burn In the Flood through their own label.
The band promise their new record will encompass themes of the struggles of personal growth and feeling trapped by emotions and how to deal with those issues. With the statistics showing an observable decline in the overall mental health of the nation, it is the kind of topic that needs to be brought front and centre and a sensible debate had.
What Our Hollow, Our Home have delivered is a solid slab of modern metal, injected with the emotional dissonance pervading through the populace at this time. Burn in the Flood is a collision of intense rage and ire, with the relative calm of introspection. Tracks like Overcast and Seven Years (Shine a Light on Me) are punchy and aggressive while hiding fragile centres and this combination allows the counterpart to shine more brightly. Yet don't be taken in by the seemingly pop-punk vibe of Better Daze, as to do so would mean you might find yourself blind-sided by the boot to the face belligerence as Our Hollow, Our Home unleash their demons.
In Retrospect's meaty guitar and pummelling drums and Monarch's huge groove and spat vocals show Burn in the Flood is not afraid of revealing all the weapons in Our Hollow, Our Home's musical arsenal and act as something of a welcome after the relatively bog-standard Parkway Drive sounding title track and Failsafe.
Vocalists Conor Hallisey and Tobias Young are joined by a few guests across the record, with TheCityIsOur's Oli Duncanson joining in on Nerv; and Ryo Kinshita of Crystal Lake making his presence felt on lead track Remember Me. However, when Lochie Keogh of Australian's Alpha Wolf is added for Children of Manus, which arrives with a huge beat down and becomes epic in its musical scope, it is the highlight of the album for me.
As Burn in the Flood draws to a close, Our Hollow, Our Home unveil Blood – the longest and, in many ways, least effective song on the album. The band should be applauded for trying something different, but the throwing the kitchen sink feel of Blood – with its synthpop-ballad-acoustic-rap-Nu elements makes it feel somewhat naïve.
That said, on the whole I enjoyed Burn in the Flood. It's a forward-thinking, well-performed and well-produced record which uses all of Our Hollow, Our Homes chops to make a worthy release. Having seen them on the Never Say Die tour in 2019 (with Crystal Lake and Alpha Wolf, as it happens) I know that the band are a devastating live act so, perhaps if they play any of the three tracks I didn't engage with in the future it might give me the opportunity to re-evaluate them.