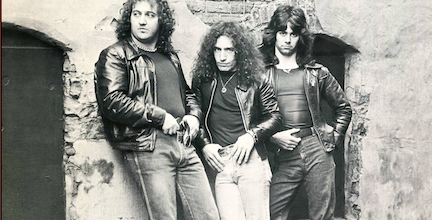 Album Review: The Rods - The Rods / Wild Dogs
Reviewed by Paul Hutchings
High Roller Records must stop with the reissues of the albums of my youth. They are simultaneously creating waves of joyful nostalgia and crushing the memories of how good many of those bands were or were not. Case in point, New York City heavy metal trio The Rods. Their self-titled debut for Arista records rode the crest of the NWOBHM and earned the band a support slot on the UK leg of Maiden's Beast on the Road 1982 tour. I was unable to see that due to the Cardiff gig being cancelled due the venue collapsing but I remember 'The Rods'.
Whilst the album is essentially a revitalised version of the band's limited edition 'Rock Hard' album, it still retains that New York groove with an enthusiasm that still translates on listening today. The album cover is memorable, despite it merely being the three band members (vocalist/guitarist David 'Rock' Feinstein, drummer Carl Canedy and new bassist Garry Bordonaro) doing their best to look moody whilst leaning against a crumbling building.
Musically, I recall it being a slightly harder edged KISS. Listening again, I stand by that. The lyrics aren't anything particularly intellectual; in fact, there are some that are downright misogynistic. It's either sex or rock n' roll and I've probably missed the drugs references to boot! Tracks like opener 'Power Lover', 'Music Man' and 'Get Ready to Rock n' Roll' come straight out of the Stanley/Simmons box of standard hard rock but there is something endearing about listening to this basic meat and two veg metal today. Two covers were included: a rather tasty 'Nothing Going on In the City' by White Honey and Robert Fleischman's power ballad 'Ace in the Hole'. This was an album given the five-stars in Sounds by Geoff Barton back in September 1981.
'Wild Dogs' was recorded in Parkgate Studios in Battle, Sussex in early 1982 as the band and their label looked to capitalise on their momentum. It's a slicker more polished album that The Rods, thanks in part to producer Martin Pearson, who had also given Swiss rockers Krokus the full production. It's an album that stands up as a fan favourite to this day with the opening duo of 'Too Hot to Stop' and the solid 'Waiting for Tomorrow' a particularly good pairing. 'Violation' on the other hand is ghastly, the opening lines "I didn't know she was just 17, I didn't know she was as hot as could be" leading to a cringeworthy "of its time" song.
The title track on the other hand remains a bit of a stomping classic to this day, with an infectious groove and a riff that sticks around long after the song has finished. I still can't cope with the cover of The Supremes 'You Keep Me Hangin' On' but there a few other gems on the album. Another memorable album cover, this one featured an apparently sightless three-headed dog and was both great and utterly rubbish! The extended CD is worth checking out, if only for some live cuts recorded at the band's headline show at The Marquee.
After 'Wild Dogs', the band continued for a few years releasing a couple more albums including 'In the Raw' and 'Let Them Eat Metal'. Carl Canedy went on to become a world-renowned producer, involved in Anthrax's 'Armed & Dangerous' and 'Spreading the Disease', Overkill's 'Feel the Fire', Exciter's 'Violence and Force' and Possessed's 'Beyond the Gates'. The band reformed in 2008 and released 'Brothers in Metal' in 2019. I'll leave you to check that one out (the title track is toe curling bad) but as we head towards the end of 2021, it's sometimes nice to head back 40 years and listen to another couple of albums that were important in those formative metal years.