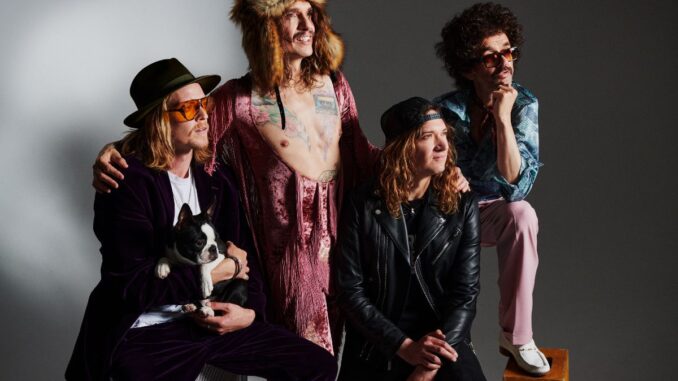 The Darkness Reveal Brand New Song 'Nobody Can See Me Cry'
The Darkness have released the brand new song 'Nobody Can See Me Cry', taken from their forthcoming album Motorheart out November 19th via Cooking Vinyl.
'Nobody Can See Me Cry' is a high-octane riffola featuring an eye-watering guitar solo of monstrous proportions, charging verses of utter determination and a high-flying chorus all powered by sheer angst, passion and unfiltered emotion.
Regarding the single Justin Hawkins says, "Nobody Can See Me Cry. It's devastating. I yearn to be seen. On this I'll settle for being heard. Listen to this song, it's brilliant. I should know, I sang it."
'Nobody Can See Me Cry' follows the recent release of the lead single and title track of the band's forthcoming opus Motorheart.
Paying homage to a devoted sex robot, 'Motorheart' growls, pounds and stomps with Rufus Taylor's drums, Frankie Poullain's bass and Justin & Dan Hawkins' guitars all turned up to 11, whilst Justin's trademark vocals soar to ever more earthquaking levels.
Motorheart is a record of immeasurable rock and roll extravagance, and yet another masterpiece from England's favourite rock icons.
Released in a wide variety of formats, including standard and deluxe versions, both digitally and on CD. There's a heavyweight black vinyl album, limited edition colour LPs and an old-school cassette version. With exclusive bundles and signed editions to boot, it's the complete aural experience from The Darkness, and a glorious addition to one of the most exciting canons in British rock music!
MOTORHEART tracklisting:
Welcome Tae Glasgae
It's Love, Jim
Motorheart
The Power And The Glory Of Love
Jussy's Girl
Sticky Situations
Nobody Can See Me Cry
Eastbound
Speed Of The Nite Time
You Don't Have To Be Crazy About Me… But It Helps *
It's A Love Thang (You Wouldn't Understand) *
So Long *
* - bonus deluxe tracks