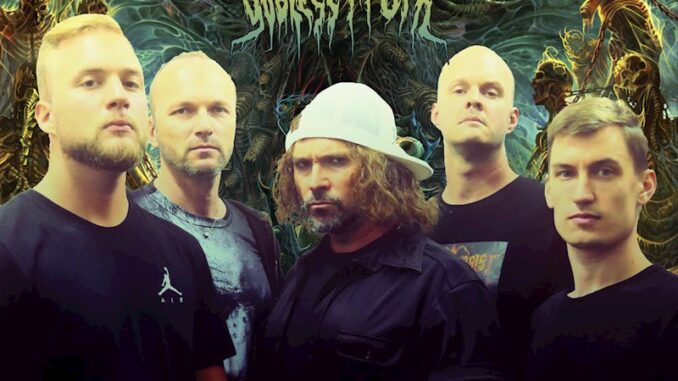 Album Review: Godless Truth - Godless Truth
Reviewed by Ewan Gibb
Deciding to self-title an album part way through an established career means something. It's a line in the sand, a statement of intent. This is who we are, and we mean business. When that self-titled album drops TWENTY-EIGHT YEARS (!) after the band's formation, you know THEY MEAN BUSINESS. And take it from me, in 2022, Godless Truth (formed 1994) really mean business, on this their fifth album.
The standard use of the "self-title" is on a debut album, and coming 18-years since 2005's 'Arrogance of Supreme Power', 'Godless Truth' (the album) may as well be the work of a new band. Only guitarist Švany remains of any line-up before 2017, and it's only his incredibly tight rhythm guitar playing that draws a distinct line from any prior output. Whereas previous descriptions of Godless Truth would've mentioned 'Liege of Inveracity' breakdown riffs aplenty and comparisons with Dying Fetus and Vomit Remnants, Godless Truth (the band) in 2022 are a very different animal. Yes, it's still Death Metal, and yes, it's still brutal, but this is ostensibly Technical Death Metal.
A little context: Joe Haley of Psycroptic makes an appearance, contributing a solo to 'The Eyechain', as well as mixing and mastering the album, and Rafael Trujillo of Obscura also lends his lead guitar skills to first track proper 'The Decision'. This is the ballpark in which Godless Truth are operating these days. Brutal Technical Death Metal, as it exists in a post-Necrophagist world; catchy string skipping riffs and virtuoso guitar solos over chord progressions that could have graced 'Symbolic' or 'The Sound of Perseverance'. Obscura are a fair comparison, albeit Godless Truth are far more intense and merciless. Alterbeast are another good point of reference, as are Vale of Pnath and Decrepit Birth, and the final track 'Wake Up to Obey' successfully achieves a decent Origin impression in its second half - all blast beats and sweeps. You get the idea.
The production is clear and heavy; the lead guitars have a lovely rich tone, the rhythm guitars remain serrating. The only minor is the overly clicky kick drums, but one quickly becomes accustomed to that. Of course, the guitar work of Švany and Ondra deserves all the plaudits, but special mention must also go to the vocal performance of Adam, whose powerful growls and intense screams provide a great deal of variety alongside the requisite intensity.
'Godless Truth' is an impressive album in its own right, but for such an established band to have re-tooled so emphatically and brilliantly makes the achievement all the more remarkable. Make no mistake, as examples of hyper-technical and relentless Death Metal go, this is up there with the best of them.