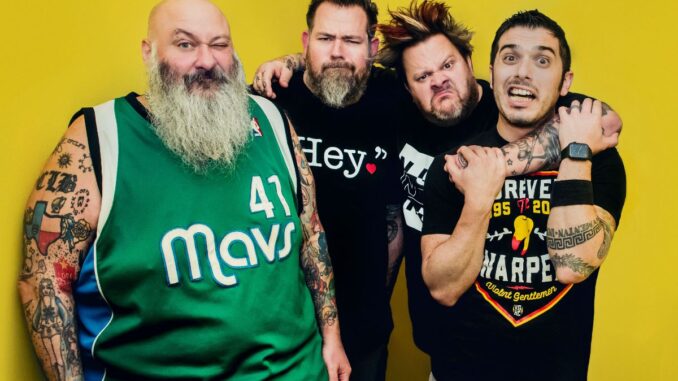 New Bowling For Soup Video and UK Tour
2022 is shaping up to be the biggest year in recent memory for Bowling For Soup. The Grammy nominated Texan pop punk quartet are today unveiling their brand new single "I Wanna Be Brad Pitt". An ode to one of Hollywood's finest actors, it's a homage to Brad delivered in a way that only Bowling For Soup can.
The video for the single, featuring one of "Brad's biggest fans" as well as your favourite pop punk band, can be enjoyed below:
In addition to the YouTube video, you can stream I Wanna Be Brad Pitt on your digital platform of choice on this link.
Here's Bowling For Soup main man Jaret Reddick on why "BFS" have penned a tribute to one of Hollywood's finest:
"Everyone who knows me, knows I love Brad Pitt. I got this chorus in my head while driving one day, and really, the rest kinda just wrote itself. I wanted the song to be a thoughtful tribute and not sacrifice the homage by making fun of him or things in his life. So that's the direction I went and when it still got laughs from the band, I knew I had hit it out of the park."
Thanks to COVID-19 forcing tours to be rescheduled, the UK is being being treated to a double dose of Bowling For Soup live this Spring. First up is the band's Crowdsurf The UK Tour in the company of support acts Lit and The Dollyrots and DJ Matt Stocks this April. The Torquay date on this tour has been postponed due to issues with the venue beyond the band's control. It will be rescheduled as soon as possible. A new show in Bristol has been added for the same day. Information about the full run of shows can be found below:
Bowling For Soup Crowdsurf The UK - April 2022 Tour Dates
12th - Empress Ballroom, Blackpool
13th - O2 Academy, Glasgow*
14th - Grimsby Auditorium, Grimsby - Low Ticket Warning
15th - Scarborough Spa, Scarborough - Low Ticket Warning
16th - O2 Academy, Birmingham*
17th - O2 Academy, Bournemouth - Low Ticket Warning
18th - O2 Academy, Bristol (New Show)
19th - Swansea Bragwyn Hall, Swansea - Low Ticket Warning
21st - De La Warr Pavilion, Bexhill
22nd - Margate Winter Gardens, Margate
23rd - O2 Brixton Academy, London*
* Extra shows added due to huge demand
Tickets for all shows are on sale now from AEG
Following the Crowdsurf The UK Tour, Bowling For Soup frontman Jaret Reddick and bassist Rob Felicetti will be back in England in late May for the Acoustic Sing-A-Long With Jaret and Rob tour. All tickets from the original dates remain valid for the new shows. Jaret and Rob will be supported on these shows by Ted from Don't Panic and UK pop/alt rockers Lacey. The full list of shows is as follows:Bowling For Soup Acoustic Sing-A-Long With Jaret & Rob - May 2022 UK Tour Dates:22nd - Bristol - Thekla 23rd - Cambridge - The Junction 24th - Sheffield - The Leadmill - SOLD OUT 25th - Stoke - The Sugarmill 26th - Huddersfield - The Parish - Low Ticket Warning 28th - Southend - Chinnery's 29th - Guildford - The Boiler Room 30th - London - The 100 Club - Low Ticket Warning For ticket information and links, please visit www.bowlingforsoup.com.