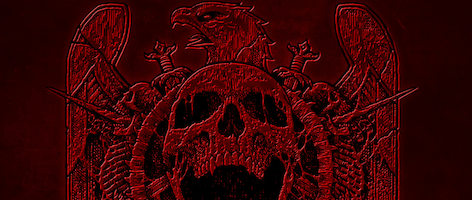 Album Review: Various Artists - Forever Reigning - A Tribute to Slayer
Reviewed by Paul Hutchings
I've said before that I'm not over enthusiastic about cover versions. Yes. There are many fine attempts out there, but for every 'Astronomy Domine' there's a hundred 'Witch Hunt's (That's VoiVod and Machine Head respectively). You really must sort the wheat from the chaff.
This release is 12 songs from the undisputed masters of thrash, the mighty Slayer. Recorded by what are described as 'an array of up-and-coming metal acts' for the debut release for Satyrn Studios, it doesn't start well with a rather strained version of 'South of Heaven' by Skrog. The vocals destroy any hope of a stand out cover. The Wisconsin band whose main style is industrial metal return to attempt 'Divine Intervention' later in the penultimate track on the release. Disinter's bruising death metal version of 'Show No Mercy' makes the original seem like Abba such is the violent delivery. It's a different take on the song for sure.
Minnesota's groove merchants Distal Descent take a stab at three tracks. The vocals are the biggest challenge with 'Expendable Youth' which is solid enough musically but lacks anything that wows. Similarly, the version of 'Mandatory Suicide' does nothing to excite. If you saw these at a gig, you'd probably risk a foray into the pit but on record this sadly doesn't hit home. And covering the intro to an album which they do on 'Delusions of Savior' is a strange choice and once more fails to ignite any fire in the thrash belly.
Move onto 'Dead Skin Mask', the first of two by Skull Fuckers Incorporated and again there is nothing too exciting. A cover with vocals that detract from the original. I flicked forward to the final track on the album, which is their cover of 'Raining Blood'. Musically it's muscular and faithful to the original, which let's face it, is an absolute masterpiece so kudos for even having the balls to have a go. Once more the vocals shred it to pieces, and any hope of redemption fades.
Death/doom/sludge beasts Eulogy in Blood bring a different take to 'Bloodline' and the Louisville quartet are one of the highlights. SloKill at least have the guts to grapple with a challenge, the Ice-T voiced 'Disorder' which is as visceral as the original. Overt Enemy win points for the most brutal cover of the lot, with a skin peeling version of 'At Dawn They Sleep'. It's the best on the album by a mile and had me raging around the garden as I listened to it.
If you want to listen to Slayer, listen to Slayer. As a fan from the beginnings, there can be no substitute.