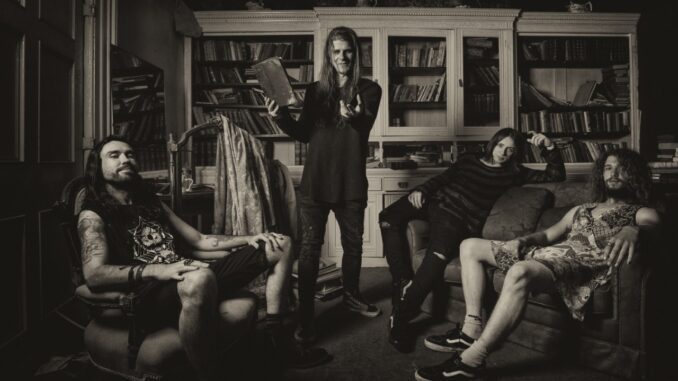 Vendetta Love Release Powerful New Video For 'Walk Alone'
'Walk Alone' is a powerful statement addressing social issues surrounding the growing housing crises and substance abuse.
Watch the video below or stream the audio
here
.
If you've not heard Vendetta Love as of yet, then you're in for a wild ride. Their boisterous fusion of '90s Grunge and '80s Hard Rock comes with that all-important swagger that so many bands lack these days and is a welcome distraction from the usual noise that clutters the mainstream.
Following their previous singles, 'Witches and Thieves', 'Blackened Hands' and 'Ode', their latest single, 'Walk Alone', continues to showcase their compelling ability to pen heart-soaring melodies, with striking lyrics, vocalised with a Cobain-esque delivery from frontman/guitarist, Shawn Mullen.
Mullen comments on the new single" That song was actually one of the quickest I've ever written. I think it took about 15 mins, and then I brought it to the boys later that evening and it was completed within an hour. One of those rare happenings when you just start writing and it writes itself!
It explores the relationship between desolation and desperate hope through the medium of substance abuse, not having anywhere to go that you can call your safe place, and the tiny little hole in the ceiling where light comes through, but you're not sure whether you'll be able to reach it or not. All you have to do is look around you anytime you walk almost anywhere in Ireland. People are not happy and are not thriving.
We've got the biggest housing crisis in living memory [In Ireland], and the divide between the so-called 'classes' is growing and growing. What we're seeing and feeling is the result of all this greed and lack of empathy for one another. That definitely bore its way into my psyche when I was writing it.
On the flip side of that, on a more personal level, a close relative had been destroying his mother and siblings with his drug use, someone who I'd watched closely since they were a baby. I was at the beginning of the end of a pretty tumultuous relationship all-the-while trying to keep my own use and abuse under wraps from most people around me, so I was kinda living in this vacuum of shit, like a feeling of homelessness anywhere I would normally consider 'home'."
Vendetta Love are scheduled to release their second EP, 'I AM' on Thursday, May 6th.