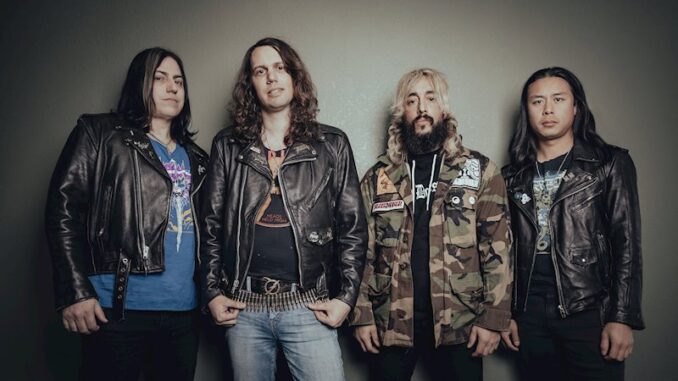 Album Review: Haunt - Windows Of Your Heart
Reviewed by Paul Hutchings
The brainchild of singer and guitarist Trevor William Church, who may be known for his doom metal outfit Beastmaker, Haunt sit firmly in the more traditional heavy metal sphere. Formed in 2017 by Church as a solo outfit to release music that didn't fit with Beastmaker's sound, Haunt has mushroomed with 'Windows of Your Heart' the band's seventh release. Given the two-year pause, this is quite some output.
Most of 'Window of your Heart' dates to 2021 when Church locked himself away writing in his usual practice. The result is a solid ten track release which is full of melody and up-tempo riffs, with a feel at times more of the kind of proto punk that the likes of The Offspring etc. bring. For those who know Haunt's music, it may be interesting know that there is less reliance on double tracked guitars, with Church instead adding solos via a single guitar, relying on pinch harmonics and whammy bar as key elements to his delivery.
Listening to the album, it's evident that there's more of hard rock vibe that full blown metal for much of the album. It's fast, at times aggressively so, but the overall feel is of more radio friendly music. There are tracks which up the ante of course, with the title track and the Ozzy flavoured 'Father Time' amongst the highlights. The musicianship is high quality, with the guitar work particularly impressive.
One can imagine that the live version of Haunt can kick some serious ass, for these are songs that are designed to be played live, where they can explode into a heavier, more vibrant entity. With a new band assembled, this will soon be a reality.
There is plenty to choose from on this album. 'Frozen in Time' features some scintillating guitar work, whilst opening track 'Mercenaries' begins slowly before erupting into a frenzied four minutes which gives a solid introduction to the album.
I've probably not spent enough time with 'Windows of Your Heart' but the few plays I have given it have provided a range of influences that combined with decent quality compositions makes it an album that is both enjoyable and entertaining.