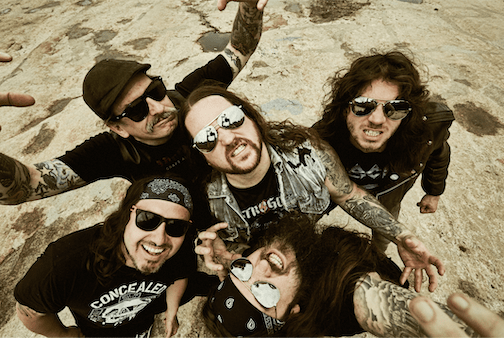 Album Review: Municipal Waste - Electrified Brain
Reviewed by Sam Jones
Municipal Waste. Just the mere mention of the name brings to mind partying, an exorbitant amount of alcohol, pits, stage diving and everything we associate with the thrash heyday of the 80s. Its also worth noting that Municipal Waste, formed in 2001 out from Virginia, United States, have been at this now for more than two decades. These guys aren't really young anymore and yet, even as the years keep passing us by, Municipal Waste continue to stick hard and well to the unrestrained form of thrash that made their name the reckoning power it became in the first place. Their 2003 debut album Waste 'Em All is classic Municipal Waste; an album that surpasses not even 18 minutes in length that's soon followed by 2005's Hazardous Mutation which effectively established the band as we now see them, including how they write and play thrash. Their crossover element is still present however the band have certainly embraced that wilder thrash aspect in the last few records. Now onto their seventh full length release, the band have done this long enough to know what fans come to expect from them and, another five years on from Slime And Punishment, its time to see what Municipal Waste bring to the table with Electrified Brain.
I believe one fervent reason why Municipal Waste has such a loyal fanbase, is their insistence on keeping thrash simple. Municipal Waste aren't looking to craft something thought provoking or culturally substantial through their songwriting, they're looking to play condensed thrash metal that's straightforward and easy to get into. The band understand there are other thrash acts people can turn to for more intricate displays of songwriting; Municipal Waste are a deeply fun band to experience as well as during live performances too. Renowned for stage antics, crowd surfing tsunamis etc the band are loved because audiences know they don't need to try to enjoy Municipal Waste; there's a remarkable sense of ease applied to their sound and it's nothing new here either. The band keep thrash fun and down to earth, in some way it's a purified form of thrash as we would have seen it in its early days: being that combination of NWOBHM-styled sound and Punk.
What I've often enjoyed about Municipal Waste's songwriting is, while the band are renowned for their fast and wicked style, they forever keep in mind the necessity to instil real presence throughout their songwriting. Most of their songwriting consists of super fast performances as they seek to hurl you into the vortex that are their riffs, but time and time throughout the record they'll slow things down just a touch to really let their riffs gather weight. It may not be present on every track as the band have never applied long album runtimes for their identity, but it's seen on enough occasions to help lend them that additional presence. Speed is all well and good but if an audience can't recall what you've just performed then it's gone to waste. Municipal Waste have done this long enough now to know exactly what they're doing, especially seeing as it's been five years since their last full length release.
Only one track on this album exceeds three minutes in length, and only barely in that exception. Otherwise, every single song found herein is two minutes long or less. Not only does this increase potential replayability but it also welcomes new fans to the fold by offering a record that isn't going to leave people with trepidation over how much time they need to invest into Municipal Waste to gauge what they like about them. This has always been the band's style, they've never sought to outstay their welcome on record. Once one track ends, you're being immediately hurled into another and another and another; a perpetually oscillating cycle that sees you continuously invigorated by the adrenaline and power the band are able to unleash upon you time and again. Owing to the band's style, there's zero fanfare or buildup to any of their tracks either, they're in then out before you know what's hit you. Other bands may wish to apply themselves with more distinguished songwriting, yet Municipal Waste still carry the torch for thrash metal played deliberately raw.
Vocally, it's the usual Municipal Waste affair. There isn't anything regarding the vocal performance that you haven't heard from the band before but, I think the reason why they work with their sound is the instrumentation and vocals complement one another really well. The overall tone of the riffs is pretty light but also possesses that unmistakably crunching sound too, the band may play quickly but it's not like their riffs are totally weightless and can't be felt. Speed doesn't negate impact in this case. So while the band are playing quickly they're emitting a crunching tone throughout their sound, offset by the higher-pitched and raspy vocals. It's always been a light sounding vocal performance and the same applies with Electrified Brain, yet the riffs and vocals aren't so completely different that they don't work in tandem with each other. One element is consistently reinforcing the other.
In conclusion, it's striking how quickly this album goes by. Yet, that's probably the point. It only maximises the potential for revisits to this album as once you know what Electrified Brain is capable of, you know you can keep coming back to it. With fourteen tracks and just over 30 minutes to be had, Municipal Waste don't allow any moment to hang around. As mentioned previously, the band's style of thrash is one that is very old school and rooted in how thrash was in its infancy. If you're after an album that's a good pick-me-up to improve your mood, or merely something that's guaranteed to offer you something fun and escapist then Electrified Brain might be worth checking out, all the more so if you're a complete stranger to Municipal Waste too. As for myself, I always feel the itch to keep returning to this band time and again because sometimes, there's nothing quite like playing fast and heavy and not caring what anyone else thinks or does about it. Soaring fun indeed.