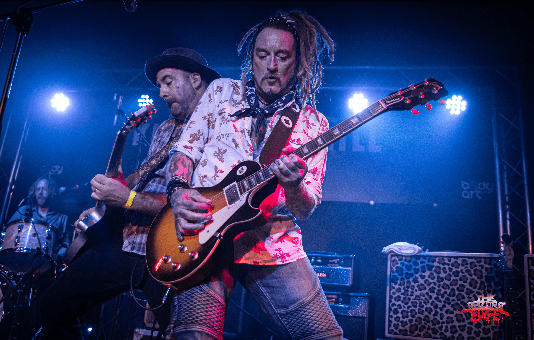 Live Review: Ginger Wildheart & The Sinners - KK's Steel Mill, Wolverhampton
16th June 2022
Support: Carol Hodge
Words & Photos: Tim Finch
With the Wildhearts seemingly self destructing a few months ago and going on indefinite hiatus, their members are keeping themselves busy with their other projects. Tonight in Wolverhampton at the legendary KK's Steel Mill its Ginger who puts in an appearance with Ginger Wildheart & The Sinners.
Opening act is seven fingered Yorkshire keyboardist Carol Hodge who takes the stage on her own for a magnificent solo performance. It's her very first visit to Wolverhampton (can't think why someone would want to avoid this run down industrial town) and she certainly leaves her mark. Her keyboard playing is jaw dropping but it's really her voice that stands out. The soulful, powerful and at times emotional delivery is a wonder to behold. Taking the stage on your own can be a daunting prospect but Carol handles it and her performance with ease.
The lounge room at KK's Steel Mill is packed to the rafters tonight, and with a heat wave rolling in, it's getting a bit sweaty. The heat is at the back of everyones mind as the headline act ready themselves to appear. Ginger Wildheart & the Sinners have just two songs available on streaming services but that doesn't stop people coming to the show.
The Sinners, Gingers latest outfit are comprised of Neil Ivison, Nick Lyndon and Shane Dixon and straight out of the box they have the crowd rocking to 'The Road' and 'That Smile'. There's a lot of banter between tracks, and it's good to see Ginger settled and happy in the live setting.
The set itself a mixed bag of original Ginger songs, some new material from The Sinners and of course some covers, but not the ones you might expect. In fact The Wildhearts material is largely skipped, bar the set closer, in favour of some cracking tunes including 'Dirty Water (Status Quo) and 'Six Years Gone' (The Georgia Satellites). But the real surprise is the wonderfully performed 'Jessica' – that Allman Brothers tune made famous by Top Gear.
One thing is for sure, Ginger loves performing music to a crowd and tonight in Wolverhampton he has a big grin across his face as he does so. The night is rounded out by the one Wildhearts cover of the evening 'Loveshit' as he and his new band mates leave to a standing ovation.
No matter what the ups and downs of Ginger's career, we know one way or another he'll be back very soon.