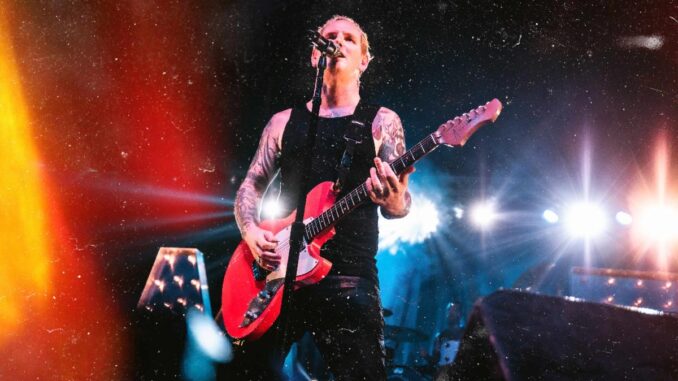 Live Review: Half Sold Out: CMFT Live At The London Palladium
17th October 2022
Words: Rick Eaglestone
Slipknot/ Stone Sour frontman Corey Taylor took the stage tonight for the first night of his UK Tour at the world-famous London Palladium for an exclusive global livestream for The Taylor Foundation - the singer/ songwriter's charity that supports and uplifts military veterans. The show was hosted by Dreamstage.
Understandably when livestreams were in their infancy there were no crowds allowed, so to see the Palladium packed to the rafters already creates a wonderful atmosphere, unfortunately The Cherry Bombs performance wasn't shown on the livestream which was a huge shame, but Corey Taylor and his band came out firing on all cylinders with a cover of The Damned's 'Love Song' & 'HWY 666'
The crowd were on their feet from the outset, and it was not long before the chants of "Corey" rang out through the Palladium, and you could see that Mr Taylor was more than happy to back in his island. It was not long before we got our first taste of some Stone Sour with 'Tired' – the energy was nonstop so much so that a speaker was blown after a brief time and a guitar change things slowed down for 'Samantha's Gone'.
The show moved on with a few more tracks before an acoustic guitar made an appearance where Corey engaged the audience with a wry smile before breaking into the SpongeBob SquarePants theme, this was followed by my all-time favourite Slipknot song 'Snuff' it does not matter when I hear it or how it is played it gets me every single time.
Two more Stone Sour tracks were up next which included some wonderful audience participation sing along parts before the surprise addition of 'Wait and Bleed' where the palladium became unglued! This was followed by the track written for his wife Alicia 'Black Eyes Blue'.
This show felt like the gift that kept on giving, it really warmed my heart to see Corey Taylor beaming and full of gratitude to everyone in attendance and everybody across the globe watching the livestream – 'Bother' & 'Through Glass' finished off this part of the show and I could not have been happier.
The encore consisted of two tracks 'On The Dark Side' & 'CMFT Must Be Stopped / Watchin' You'.
As the show ended you could see the utter joy on peoples faces and even though I was at home I was made to feel that I had been there right in the thick of it and was a great feeling
The show will be available for ticket holders on-demand until the 20th of October & I can assure you I will be watching this again.