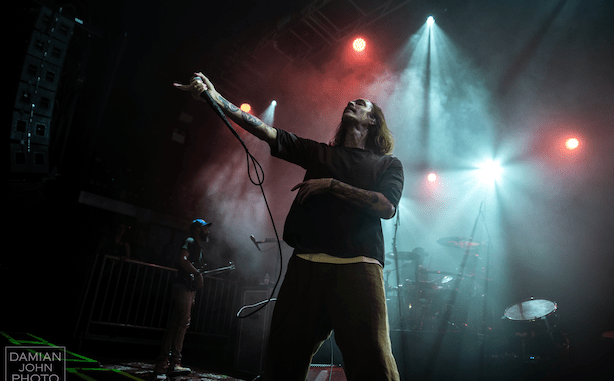 Live Review: Incubus - O2 Academy, Birmingham
28th September 2022
Support: Softcult
Words: Matt Noble
Photos: Damian John
Opening proceedings tonight are the Canadian Softcult, launching straight into their set after being surrounded by darkness. Dreamy, elegant and sprawling, their gentle melodies wash over the crowd, a soothing mix of dreampop, shoegaze and indie. The vocal interplay between drummer and frontwoman add a layer of interest to their already-textured music. Softcult perform unapologetically with a strong, potent social message, and there is an uplifting speech from Mercedes before the final song of the night. Their set goes down really well and they prove to be an act to keep tabs on.
The main attraction is Incubus, who have practically packed out the entire Birmingham O2 Academy floor. Launching into Nice to Know You, their gentle alt-rock chords and turntable scratches completely engage the audience straight away. 'It's nice to see you…', says Brandon Boyd gently, before the band count in for Wish You Were Here, one of their biggest ever hits, only third in the set, taking the crowd energy up yet another notch. The crowd singalong moments are just huge when the band cut out for everyone to sing the anthemic lyrics.
It's rare for Incubus to start a song without a rousing cheer to erupt across the Academy floor. It's no wonder that the band have enjoyed so much success with their rock anthems that everyone seems to know word for word. Brandon's charismatic vocal performance is absolutely excellent, whether with gentle falsetto or high-octane belting. He effortlessly conducts the crowd like his personal choir. There's no need to hype them up - Brandon can simply perform at his best and let the sea of faces before him do the rest. With lyrics that everyone can connect with in some way, there are plenty of moments when the crowd sing louder than the actual band themselves.
An acoustic interlude mid-set sees a stunning rendition of Mexico get all the phone torches in the air, and midway through Are You In? Incubus drop into The Doors' Riders on the Storm, rousing an appreciative cheer as the opening lyric reverberates around the room. They turn it up a bit louder with the groovy Karma, Come Back. The 18-song set just seems to have it all. The band are extremely well-polished, and the unwavering adoration is completely deserved from the audience - the drum performance, in particular, impressed me with the flair and technicality locked into the massive rock grooves. Of course, mega-anthem Drive gets the biggest reaction of the night, saved until the very end, with the loudest crowd singalong. From the barrier to the bar, phones record as the whole floor and balcony join in for one last time. A joyful and fun end to an evening with one of alt-rock's biggest heroes.