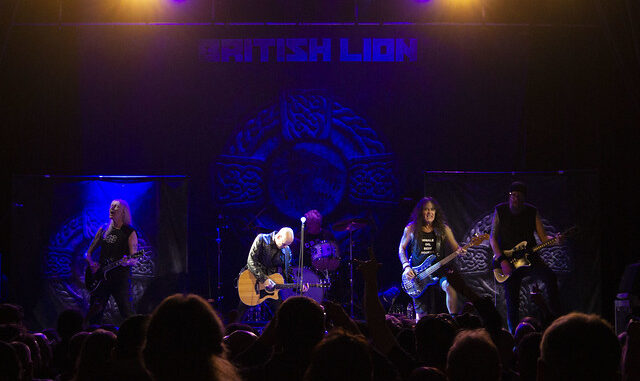 Live Review: British Lion - Islington Assembly Hall, London
18th January 2023
Support: Voodoo Six, Airforce
Words & Photos: Jacob Schwar
Kicking off tonight's bill at the spectacular Grade II listed Islington Assembly Hall are heavy metal heroes Airforce, featuring former Iron Maiden drummer Doug Sampson. A perfect choice for an opening support act with leadsinger Flavio Lino doing a great job to get the crowd warmed up and ready for the night ahead. They kicked straight into the song 'Fight' from their most recent studio release Strike Hard, a catchy number which sounds straight from the NWOBHM era and a superb introduction, letting the audience know what Airforce are all about! They went on to play some real belters such as 'Life Turns To Dust' and 'Heroes' though a personal highlight was the closing track 'Sniper' with its truly Maidenesque rhythm section and epic vocals by Flavio which without doubt sound similar to the great Bruce Dickinson. After a fantastic set Airforce exited the stage to a well-deserved applause and most likely, as stated during their set, headed to the bar for a postperformance pint and to enjoy the next band on tonight's bill.
As the lights faded, the iconic theme from The Great Escape began to echo throughout the venue, an oddly fitting introduction to the next of tonight's bands, this was Voodoo Six. Wasting no time they opened up with 'Falling Knives' which was an awesome choice for an opener that truly got the adrenaline pumping. They followed this up with a couple great hard rocker tracks from their Fluke? album, the band themselves showed so much enthusiasm, you could see they were loving every minute of it and audience never failed to reciprocate that energy. Next up was the song 'Gone Forever' and was a personal favourite from the set with its more tender song writing though in no way any less rocking than the previous few tracks we had already heard, much credit to the band for an excellent performance of this song especially.
Voodoo Six went on to play the remainder of the set whilst never losing their energy, they closed with the anthemically catchy 'Your Way' which was an excellent rock n roll finale to an incredible set. Voodoo Six were an excellent act for tonight's event, providing some classic unadulterated hard rock that got the crowd moving and really set a cool vibe for the night so far, one for which the headlining band would have to beat!
Now we come to tonight's headliner British Lion, who consist of Simon Dawson on drums, Grahame Leslie and David Hawkins or guitars, Richard Taylor on vocals and last but not at all least Steve Harris on bass.
Kicking things off with 'This Is My God' which saw fans singing their hearts out along with Richard Taylor who I must add sang with such passion and expression throughout the set. Though the mood quickly changed with the quick and catchy number 'City Of Fallen Angels' which got the crowd moving for sure and one which saw Steve Harris do his iconic stance on the monitors overlooking an ecstatic audience.
British Lion's set consisted of some great tracks from their discography, including a hefty chunk of material from the debut album. Personal favourites of the night included 'A World Without Heaven', 'The Burning' and 'Father Lucifer' for which Richard Taylor was armed with an acoustic guitar for the intro section that was a welcome change. British Lion themselves were on fire this night, overjoyed and happy to be here is what I gathered and its no surprise when the your audience is just as excited as you are with concert attendees consisting of old fans and new, all wearing their best Maiden merch and pumping their fists like devoted followers. Overall, an incredible performance from the band which left me impressed as it was also my first time seeing British Lion in concert. To think however the next time I'll see Steve Harris will be in a stadium venue and with a few thousand people in attendance… crazy?
All photo credits: Jacob Schwar