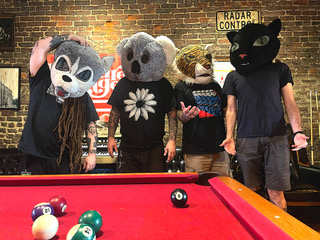 Album Review: Venomous Concept - The Good Ship Lollipop
Reviewed by Dan Barnes
Yep, you're reading that right – Venomous Concept have put out another new album; and not even three years after 2020's Politics Verses the Erection. In terms of VC, that's damn-near a simultaneous release.
Conceptualised by Kevin Sharp and Shame Embury back in 2004 as a love-letter to the hardcore punk bands they love, the influence of Black Flag, Bad Brains, GBH and, of course, Poison Idea can be heard loud and proud in the galloping guitar of Time Line and the choppy riffs of Pig. Slack Jaw has a melodic centre but don't let that put you off, it's still going to rip your face off at the first opportunity.
The personnel making up Venomous Concept are long enough in the tooth to know how to lay down some punishing tunes. When the band is fifty percent Napalm Death, twenty-five percent Brutal Truth and twenty-five percent Cancer you know you're not going to be in for a gentle ride.
So Slick pummels and pounds in equal measure while Mr Sharp's raw-throated delivery on Humble Crow is enough to warrant concerns over his vocal chords.
As you would expect, the musicianship is exceptional. Shane and Carl Stokes of Cancer keep it water-tight at the bottom end, while John Cooke wrings and tears all manner of sounds out of his guitar.
That's all well and good, but both you and I know neither Napalm nor Brutal Truth are known for sticking to a formula, so why should they with the freedom of a side project?
The Good Ship Lollipop is opened by a track of the same name which, after a child-voiced introduction drops into a distinctly Ministry sound. Clinical and Voices go the same route, with Kevin adopting a near-perfect Al Jourgensen lilt.
Later, those industrial stylings are twisted into Killing Joke territory for the post-punk sounding Fractured and again to a lesser degree on the alternative Flowers Bloom.
The further exploration of other areas is the result of Venomous Concept's desire to create a unique record amongst their back-catalogue. Whereas Retroactive Abortion, Poisoned Apple and even Politics Verses the Erection have Grindcore at their hearts, The Good Ship Lollipop is a deliberate attempt to head off into more punk orientated waters.
To a large extent, punk is a genre dealing with people and the affects of the world on their lives. Shane acknowledges the driving force being this album's lyrical content is the effects of the pandemic on a populace totally unprepared for it, both physically and emotionally.
With that in mind, The Good Ship Lollipop could well be Venomous Concept's most dark and heavy album to date.