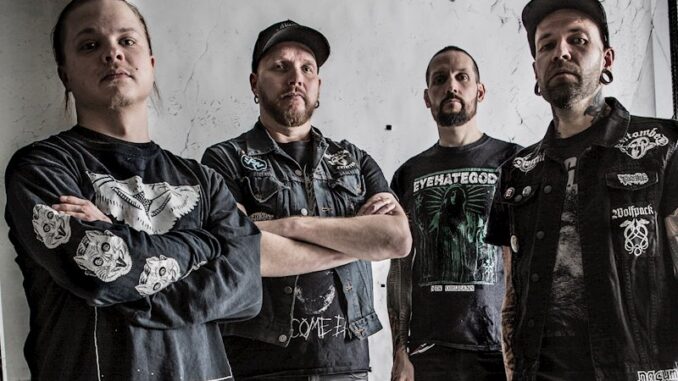 Album Review: Rotten Sound - Apocalypse
Reviewed by Dan Barnes
Apocalypse is only Rotten Sound's eight full-length record since they started popping albums out in 1997; though the Grinding Finns have not been shy about augmenting their discography with many an Extended Play over the years.
It's not down to tardiness that Apocalypse arrives seven years after 2016's Abuse to Suffer, rather the external logistics of brining product to market that has seen the eighteen tracks stuck in limbo since January 2022.
Still, all has been resolved and Rotten Sound unleash the dozen-and-a-half, twenty-one minute demolition that is Apocalypse at the end of the month, ready to take no prisoners or give any musical mercy whatsoever. So, prepare yourselves, this may get a bit rambunctious.
Rotten Sound hit the ground running with Pacify's grinding guitars and blistering drum laying the foundation for what Apocalypse will contain. Original vocalist Keijo Niinimaa growls and rages his way through the record, espousing caustic comments on the state of the modern world and the general population's place within it.
There are, of course, plenty of blitzkrieg bruisers among the eighteen tracks; full on grinders like Science, Patriots and Nothingness convey their messages wrapped in a whirlwind frenzy. But the Finns aren't without the desire to look further afield in their brutality and introduce some grooving elements into the likes of Fight Back, Ownership and the title track itself.
Sami Latva had been banging the drums for Rotten Sound since 2006 and he forms the bedrock upon which Apocalypse is constructed. (Relatively) new bassist, David Kasipovic lends both his four-strings and backing vocals to the whole endeavour, shining through with some seriously filthy lines on the blink-and-you'll-miss-it True and False and a fat sound on the dissonant progression of Newsflash.
But it's not all about the Grind. For scattered among the short, sharp shocks are moments of relative calm. Both Sharing and Suburban Bliss eschew the frenzy and drop in brief breakdowns; Digital Bliss seems to turn its back on the genre altogether and adopts a more Death Metal vibe, right down to Mika Aalto's Floridain-inspired riffs.
Possibly the most unexpected moments arrive in the form of Rotten Sound getting their Sludge on with Denialist's lumbering introduction and Inflation's album closing outro. These passages add to the overall dynamism of the record, showing that extremity takes many forms.
Although short, Apocalypse is a pin-point accurate shot across the boughs of the modern world. Tackling topics such as a corrupt global media, the proliferation of social media and its influence, alongside the usual subjects of war, inequality and politics, Rotten Sound unleash a modern grind masterpiece worthy of being heralded alongside Pig Destroyer, Nasum and Napalm Death.
Just make sure you strap everything down before pressing Play.