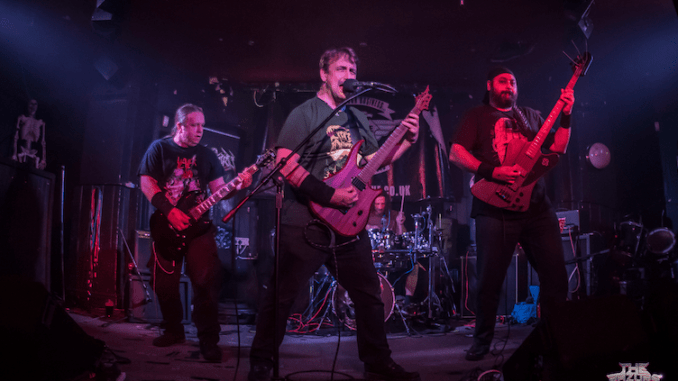 Live Review: Day of Wrath - The Devonshire Arms, London
20th May 2023
Words: Tim Finch
The Devonshire Arms, "The Dev" to many of us, is a hive of activity, a hub of the underground metal scene in the heart of London. If you know your shit and you're in town, no doubt you've passed through this establishment to quench your thirst and enjoy some of the best music on offer.
It's a sunny day in the nation's capital and Camden Town is buzzing as we weave through the crowded street and onto the nations favourite metal pub. With drinks in hand it's time for local heroes Day of Wrath to take to the stage.
The crowd enjoying the sun outside comes into the shade as the opening notes of 'I Drown' ring forth through the pubs incredibly loud PA. The band meld rasping thrash riffs with a more deadlier death metal edge.
'Sweet Release' and 'Pain' see the band settle into a rhythm. Rust, a real life reflection of the muppets Animal, on drums whilst Dev steadies the ship on bass. The dual guitar attack of Pete and Adrian drive the live performance forward and together the whole unit are on fire. Pummelling riffs batter the audience through 'Life' and 'Rise of War' and Adrian's vocal girth delivers with ferocity.
It's a short half hour performance topped off with Adrian's squealing solo in 'It Fell From The Sky' but it was worth the trip out to this legendary venue. Day of Wrath get better with each performance, a tighter unit getting ready to break through any day now. If you get the chance check them out, you won't be disappointed!