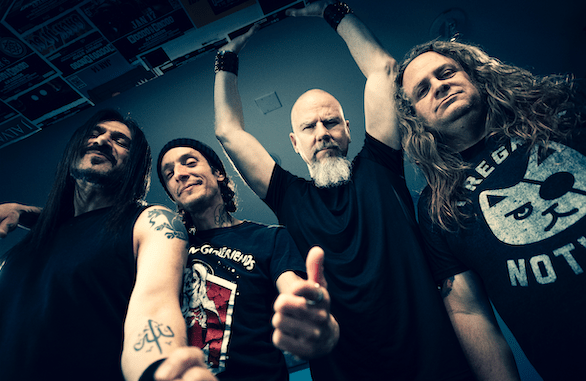 Album Review: Exhorder - Mourn The Southern Skies
Reviewed by Carl Black
"1 2 3 4... Almost every da..." No that's a little unfair. It's lazy journalism and I won't go there and compare this band to Pantera. I know that fans and the band members are really annoyed when all they ever seem to hear in the press and on the internet is lazy comparisons to Pantera.
However, they do make it hard for anyone not to think that. I understand that the band come from the same part of the world as Pantera and they grew up listening to the same musical influences. Pantera rose to metaphoric height and Exhorder never got close to their success. The vocals are reminiscent of the Cowboys from Hell / Vulgar Display of Power era Pantera. Exhorder also follow the same song structure and album flow as 'Vulgar'. They have foot stompers, mid paced thrashes, very fast songs, swearing in the choruses and finish with a touching ballad. Does this sound familiar?
Within these foot stompers and fast songs, there is a very decent thrash band trying to make a name for itself. The songs are of high quality, not as high as Pantera in their prime but let's face it, which band ever will be as good as Pantera in their prime. There's nothing wrong with the this effort by Exhorder.
This does remind me of the scenario that Kingdom Come found themselves in in the late 80's. Kingdom Come where a band that borrowed heavily from Led Zeppelin and were criticised heavily (when only a few magazines held judgement over many bands) The media and fans from left to right and front back criticised Kingdom Come for taking so much from Led Zeppelin.
Fast forward 20-30 years and we discover a band called Greta van Fleet who borrow much more from Led Zeppelin both sonically and visually than Kingdom Come ever did, and yet every media darling is singing their praises like its 1976. No less than the great man himself, Robert Plant, stated that they are "Led Zep Mark 2"
The question I ask you the reader is, are you ready to accept a band that borrows so heavily from a group that everybody loved? If the answer is no, you need to stay away from this album at all costs. It will only wind you up and make you feel angry that some band has blatantly ripped off the sound that you love.
If the answer is yes and you are ready to accept a band like Pantera again, that will make you feel like it's the early to mid 90s again, then grab a copy of this and jump off a solon bar in the wild west. This could be an excellent album that could fill a 20 year hole, or it could be an insult to the legacy of a landmark band. Which side it falls it up to you, the listener, to decide.
Exhorder's 'Mourn The Southern Skies' is released on September 20th via Nuclear Blast.