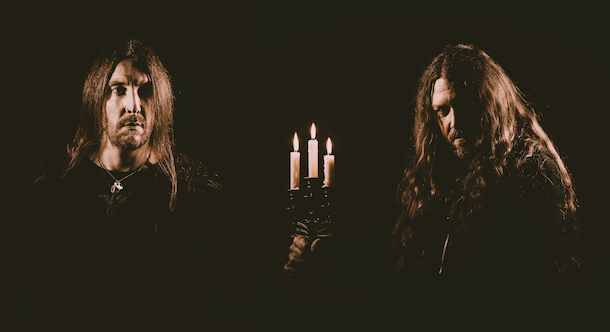 Interview: Vespasian of Imperium Dekadenz
Interviewer: Robbie Maguire
Imperium Dekadenz released their new album 'When We are Forgotten' just last month to critical acclaim. Robbie sat down with Vespasian from the band to talk about the new album.
The Razor's Edge: How long did it take from initial ideas to actually having the finished the new album 'When we are forgotten'?
V: We released "Dis Manibus" in August 2016. After that release we started to promote the album live. We played festivals like Wacken, Gothoom, Wave Gothic Treffen, we toured with Enslaved, played our first two shows in Italy etc. But we also started to work on new ideas. We wrote more stuff than ever before. It was a very creative time.
In the beginning 2018 we signed to Napalm Records. Then, in October 2018 we started with the album-production for "When We Are Forgotten", when we entered the Iguana Studios for the drum recordings. We recorded the guitars and bass in our studio in November/December. Vocals were also recorded in December. In the end of January we started mixing and mastering, once again in the Iguana Studios. Everything was finished in February 2019.
The Razor's Edge: It's multi layered with so much going on and it reveals so much more with each listen. How will you re-create the atmosphere and emotional depth you have created on the record in the live setting?
V: We are lucky enough to have two live-guitarists that understand perfectly to perform the songs on two guitars. We always send them the recorded guitar-tracks and then they figure out how the songs work fine on stage. Live, everything is rougher, that's for sure. But that's the way it should be.
The Razor's Edge: How do you feel as a band you have progressed over the last 6 albums?
V: With the years one matures as a human being. Art is like a reflection of this process. Of course, we were influenced by mid-nineties Black Metal back in the days, but we never emulated others. We were lucky enough to be able to define our very own style at a very early stage of the band.
Our goal was always to create passionate art and that special melancholic but also harsh atmosphere. We always try to get better in every discipline: Songwriting, Production-Skills, etc. I am sure people can hear the progression and improvements. This is a never-ending process.
The Razor's Edge: The live / touring line up is different to the recording line up. How long do you prepare, rehearse for the upcoming tour?
V: Fortunately, we have the same live-musicians for more than ten years now. They have their own band, called VARGSHEIM. So, we meet in their rehearsal-room near Würzburg, Germany for the rehearsals. Everyone is well-prepared when it comes to the rehearsals. So, nothing special, just a band that sweats in a stinky room.
The Razor's Edge: What are your favourite song to play live?
V: Oh, that depends, but I love the straight power of "Pure Nocturnal Rome". A Million Moons is also fantastic in the live-situation. It has that doomy ending which most of the time closes our set. It is so intense!
The Razor's Edge: Your first U.K show is in October. Any hint as to what the fans can expect?
V: They can expect classic Imperium Dekadenz shows with some new songs in the setlist. We are very looking forward to it, because that will be the first time ever we play this new material! Better be there!
The Razor's Edge: There are lots of gigs on in London that weekend. How would you sell your show to the fans over any others they may be considering?
V: If you are into atmospheric black metal and if you love raw underground energy, then you should join the shows!
The Razor's Edge:  Who do you look up to and admire and who is trying to push and progress the Black Metal Scene?
V: We don't look up to anyone in the scene, but what we like is that there are so many bands with an unique style nowadays. Especially in Germany: So many bands, and most of them have their own sound.
The Razor's Edge: What's are your favourite releases this year - any band in any genre?
V: I am looking forward to the new God Body Disconnect album. Fantastic Dark Ambient-project! Then I just heard that the recording for the new Lone Wanderer-album are finished. Lone Wanderer are from Southern Germany, and they play superb Funeral Doom in the vain of Mournful Congregation. Check them out!
The Razor's Edge: Who would be your ideal touring partners?
V:  Primordial - We love their music and energy on stage. The feelings and moods are similar to Imperium Dekadenz, so the people could have an emotional evening with that package. Satyricon - We are very influenced by their old albums. ID and Satyricon found a way to combine 90's Black Metal with new elements on a very own way. Such an evening would be very dynamic and atmospheric.
The Razor's Edge:  To finish up, a quick fire round; things you couldn't live without/favourites of all time:-
* That one album if you were stuck on a desert island which one would need with you? Motörhead -1916
* Favourite album cover? Dissection – Storm of the Light's Bane
* The best band logo? Unleashed
* All time favourite band / musician? There are many bands, but okay, it is Motörhead / Lemmy
* Best band merch of all time? Maybe Iron Maiden
* Best show you've ever been to? For me two best shows: Motörhead -Filderstadt 2002 & Dead Can Dance – Munich 2012
The Razor's Edge: Thanks for talking to us.
Imperium Dekadenz new album 'When We Are forgotten' is out now!
You can read our review of it right here!