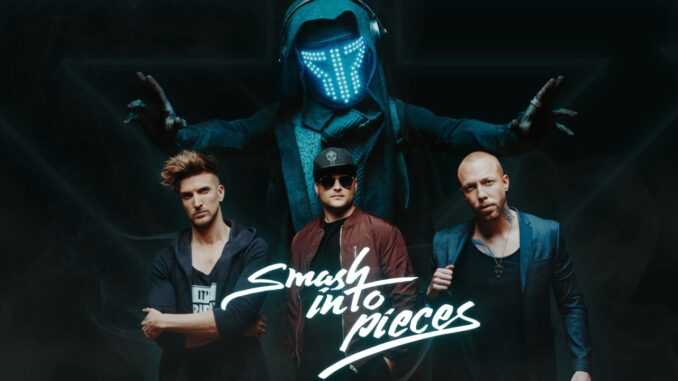 Smash Into Pieces Release New Single
Swedish rock band Smash Into Pieces have released new single ARCADIA off their upcoming fifth album released January 2020.
You can watch the video for the single here:
With 4 released albums, 12 singles, over 70 million streams (on Spotify) and 30 million views on YouTube, Smash Into Pieces have evolved into one of the fastest rising alternative rock bands from Scandinavia today.
Smash Into Pieces made a big breakthrough in their home country Sweden in 2015 with their second album release, "The Apocalypse DJ". The following years contained several world tours as support to bands like Alter Bridge, Within Temptation, Halestorm, Amaranthe to name a few.
In 2017, the band released their third album, "Rise & Shine". Their success continued and international massive touring increased their worldwide fanbase. With the latest release of the bands fourth album, "EVOLVER", in October 2018, Smash Into Pieces broke the 500,000 monthly listeners mark on Spotify and are now streaming close to 250,000 streams per day.
With over 50 executed shows in three different continents in a 6 month period the band finally got some rest when they started recording their fifth album during the spring of 2019. With new partners attached to the project, a new album scheduled to be finished by the end of the summer and a little more than 20 released shows Smash Into Pieces are facing a very hectic but bright future.
25th January 2019 saw Smash Into Pieces release their brand new single Human The song raises questions about modern society and the "dark side" of our evolvement towards an even more increasing digitalization.
Smash Into Pieces comment:
"Arcadia is the game known to us as our reality.  We don't question the playground we're living in, we're not aware of the code that rules our lives. We're just NPCs, controlled by the Arcadia player. But there are ways to break free. Start asking the right questions and you might find the glitches in the game."
With a bright future set for the band and their 5th Album being released early 2020 Smash Into Pieces with their rock / pop mix show the world they have the stance to set the bar high amongst the vast growing music industry keeping up with all the changes happening.