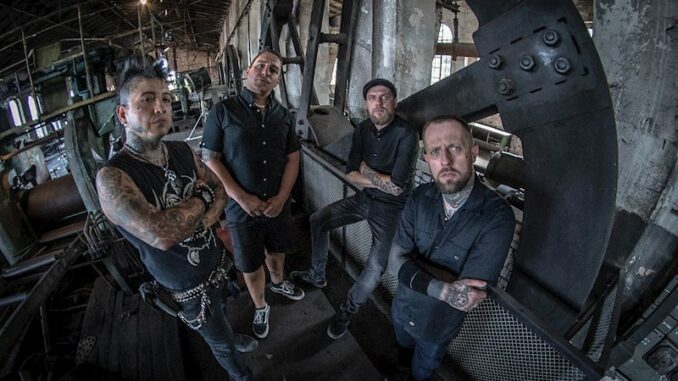 Album Review: Booze & Glory - Hurricane
Reviewed by Dan Barnes
Not so long ago a friend of mine made the bold statement that Manowar would go down a storm at the Rebellion Festival. Obviously, the loin cloths may well be too much for the Mohawks and Skinnies but in T-shirts and jeans the fist-pumping, sing-along, positivity of Power Metal wouldn't be too far removed from the Punk ethos.
When first coming to review Hurricane, the fifth album from London-based Punks Booze and Glory, I had to stop and check that I was playing the right record. Opening track, Never Again drips with the feel of a German Power Metal band: big and in your face, but with the virtuosity one would expect from exponents of the cheesy-arts. Not as overt, but certainly present, the Power Metal rears it head again on Ticking Bombs and My Heart is Burning. This is in no way a criticism of Booze & Glory, just a observation that the cheesiest form of metal and the streetest form of punk can make odd bed-fellows.
Hurricane sees Booze & Glory continue the evolution shown on 2017's Chapter IV with a fine collection of future pit classics and crowd pleasers. Tracks such as 10 Years, Live it Up and The Guvnor are huge, fast-paced, fist-pumping anthems, all positive vibes and gang vocals. However, Booze & Glory are far from a one-trick pony and they vary the tempo, showing a slower and more controlled side on the title track and on the six-minute closer, Too Soon. Here Booze & Glory lead with soft piano lines and acoustic guitars and deliver a piece reminiscent of the Dropkick Murphys are their most poignant.
Hurricane is an album with a few surprises: the power metal-esque not with-standing. Their decision to cover Elton John's I'm Still Standing is an interesting one, but put through the Booze & Glory filter it definitely works. And the band would be remiss for not including the terrace-chanting Three Points, an ode to West Ham United in the vein of The Business, the Rejects and Cock Sparrer.
What is great about Hurricane is that Booze & Glory have demonstrated the breadth of scope of what punk can be: whether that be evocative of the carnage of one of their most fierce pits or the empathic observations of them at their most soulful, Hurricane is a display from a band, ten years into their career, showing no signs of running out of juice just yet.
Booze & Glory release 'Hurricane' on October 18th via Scarlet Teddy Records