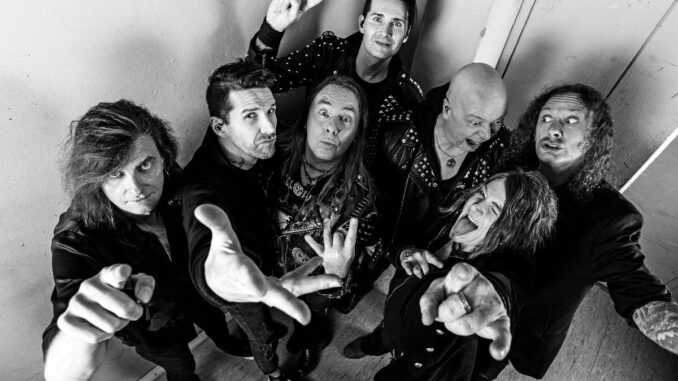 Album Review: Helloween - United Alive In Madrid
Reviewed by Neil Bolton
In general, most metal heads would consider Helloween's first three albums absolute classics. This German band are even sighted as one of the originators of power metal. Those first three albums "Walls of Jericho" and "Keeper of the Seven Keys - Parts 1 and 2" are not yet power metal, but classed at the time, as speed metal.
With tidy song writing they produced radio/video friendly four minute songs along side epic thirteen minute pieces. High pitched clean vocals, dueling guitars and a little sprinkle of comedy thrown in made it possible for Helloween to sit at the table of heavy metal along side their peers.
With very impressive record sales and tours all over the world, original member Kai Hanson decided to leave and create Gamma Ray. Helloween went on to release two poorly received albums and both singer Michael Kiske, and drummer Ingo Schwichtenberg left the band.  With new vocalist Andi Deris singing in a similar vein, and new drummer Uli Kusch, they carried on recording and touring, now with a more power metal sound.
In 2016 Helloween announced the return of Michael Kiske, and Kai Hanson to tour with existing band members as Helloween United.  This now elevated a Helloween gig to a live celebration of their hits and career.
Helloween's 'United Alive in Madrid' is a 24 track recording from the aforementioned tour in December 2017, including bonus tracks from shows in Chile, Germany, The Czech Republic, and Brazil. All band members are involved and you can feel the sense of fun and enjoyment coming from the band. The crowd certainly are enjoying this journey through their career. As the sing along, crowd participation parts go down very well.
Filled with tracks from the above mentioned classic albums, and tracks from later albums. This album displays they still are still a live force to reckon with. I mean WOW! Not many bands have the balls to burst onto stage with a 13 minute belter, in the knowledge that not one of the audience will loose interest. In fact this just creates more anticipation of what's to come.
There is a good enough mix of songs from both singers eras to please fans, and people wanting to hear stuff they may not yet know. It's recorded well, and no one seems to left out of the mix or treated differently in the recording. We're just left hoping for a return to the U.K. sometime soon.
Helloween's 'United Alive In Madrid' is available now via Nuclear Blast!