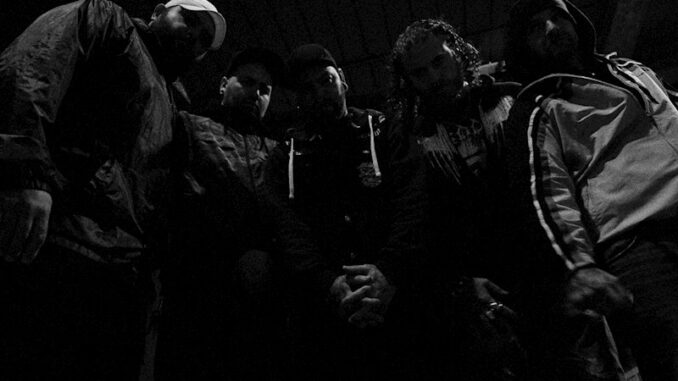 Album Review: Dripback - Blessed With Less Than Nothing
Reviewed by Tim Finch
In a world of over produced, radio friendly, watered down metal it's often refreshing to find a band doing exactly the opposite. With Dripback and their new E.P. 'Blessed With Less Than Nothing' that is exactly what you get... raw, uncompromising, angry, in your face extreme music. At barely fifteen minutes long their E.P. is a short sharp shock of a recording and pulls no punches as it batters your senses.
You may be asking who Dripback are? The five piece London outfit have been away from the scene for a short time, but prior to that tours with Soilent Green, Biohazard, Lock Up, Pig Destroyer and appearances at Download and Bloodstock shot them to prominence. Life happens and a period on the back burner occurred. Now back to full force, their Russ Russell produced E.P. is ready to drop.
Opening with the title track, 'Blessed With Less Than Nothing' they lead you in gently a dark riff and throbbing drum line slowly ramp up the atmosphere before they hit you with the full force of their song writing. The song a mix of styles hints of death metal and grind core deep through, a definite At The Gates influence at times.
A cry of "you were born a grass and you'll die a fucking grass" launches the listener into 'Forked Tongues' a brutal number even more aggressive than the track before it, ramping up the pace as the band get in your face. The trend continues throughout the E.P., vocalist Wez4's angst driven throaty vocals providing a harsh edge on top of the wondrously dark and menacing musical performance. Styles fluctuate from out and out death metal, to hardcore, and grind. All the time remaining subtly brutal, slotting somewhere between Napalm Death and the aforementioned At The Gates in extreme music scale.
If you are looking for something aggressive, something different from the norm and above all something fresh then Dripback new E.P. Is a great place to start. Like a shovel to your face this one will hit you hard.
Dripback release 'Blessed With Less Than Nothing' on March 20th