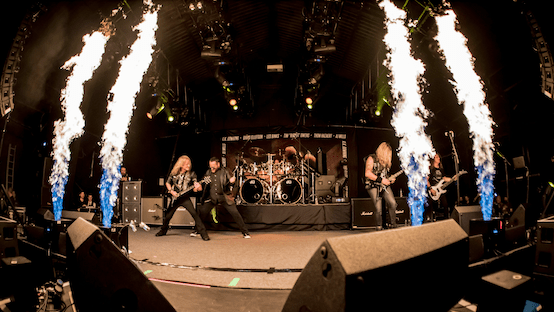 Live Review: MEGAPRIEST - K.K. Downing and David Ellefson - Wolverhampton
Review by Tim Finch
It's a historic night in Wolverhampton for many reasons tonight. The main focus of attention is K.K.'s Steel Mill in the city centre which plays host to a gig of epic proportions. For tonight K.K. Downing himself returns to the stage, with David Ellefson of Megadeth on bass, Tim Ripper Owens (Judas Priest/Iced Earth) and Les Binks (Judas Priest) playing a set of Judas Priest songs. Not only that but David Ellefson himself plays a solo set of his own material plus a few Megadeth numbers thrown in for good measure.
Kicking off the evening is an exclusive meet and greet with all members of K.K.'s impromptu band for a select few fans lucky enough to bag tickets. This event had the added bonus of a question and answer session with the band where the fans got to ask questions and gain exclusive insight into the famous combo.
As the Q&A session finished the main show gets started with the opener, former Iron Maiden front man, Blaze Bayley. The main room is packed already in anticipation of the evenings event. Blaze ever the charismatic front man commands the stage for his short thirty minute set of solo material with a few of his own Maiden era songs thrown in for good measure. To close off this special set, he brings out a number of guests including Luke Appleton of Iced Earth. If you wanted energy and in your face heavy metal in a blistering thirty minute set, you just got it.
Now the fun begins, with David Ellefson doing a solo set. This tour is in support of a new book he has out and he's here to play both solo material and a few Megadeth numbers. Backed by a number of Italian musicians who are as near perfection as can be and with Thom Hazaert performing vocal duties.
Many were not sure what to expect from David's solo set, but it turns out he's played a blinder. Opening with 'Wake Up Dead' and 'The Conjuring' immediately grabbed the old school Megadeth fans attention. The performance is full of energy helped by the talent of his three young Italians. A few Ellefson solo numbers are thrown in which sit perfectly with the Megadeth classics, but its the more familiar tunes people want.
A magnificent display of David's own talents come to the fore in 'Dawn Patrol' before the set being closed off with 'Symphony of Destruction' and 'Peace Sells'. The group David has assembled performed perfectly, and the forty five minute set was a blinder, but there is more yet to come.
Headlining the evening is K.K. Downing playing alongside David performing a set of Judas Priest classic's. K.K. has called on old Priest bandmates Tim 'Ripper' Owens and Les Binks to perform with them, whilst also drafting in local guitarist A.J. Mills from the band Hostile. The prospect of this show has drawn fans from worldwide to Wolverhampton. The barrier lined with Japanese, Croation, German and other nationalities all clambering to see K.K.'s return.
Opening with 'Riding on the Wind' they are in full flow straight out of the blocks; Ripper standing tall, front and centre wearing sunglasses not too dissimilar to that look of Rob Halfords. K.K. is in his element, in front of his fans in his own venue and he's lapping up the adulation.
'Hell is Home' is a barn burner of a tune, complete with pyro to keep the fans toastie on this chilly November evening. The atmosphere in the venue is electric, unlike anything I've witnessed of late. There is a real demand for K.K.'s music and that is evident tonight.
The musicians storm through 'Metal Gods' and 'Burn in Hell' much to the fans adulation. K.K. smiling ear to ear, as do the rest of the band all enjoying this one off opportunity to perform with a true great. A.J. Mill's grabs the opportunity with both hands, selling his skills in front of the thousands in attendance as he solo's he way through a number of tunes.
'Hell Bent For Leather' rounds off the main set, but we're not done yet as they return for the classic's 'Breaking The Law' and 'Living After Midnight' before they all take a bow. This show was a one off experience that sadly we may never witness again. But for those of us who were there... that was an historic show!