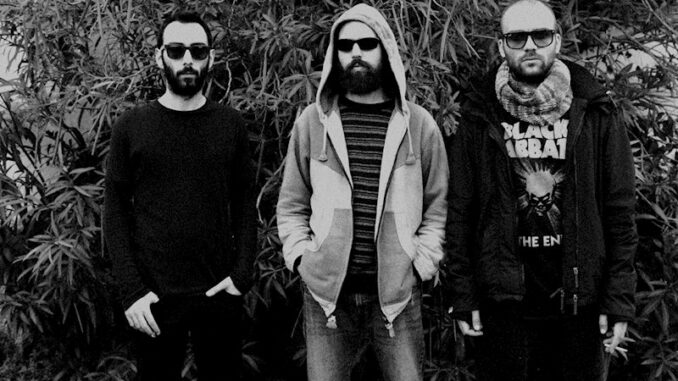 Album Review: Arrakis - Technontology Vol. I
Reviewed by Paul Hutchings
The Greeks do love their stoner rock. It suits the laid-back lifestyle, the chilled approach to time and the ability to express oneself in an unrushed yet groove delicious manner. Welcome to Arrakis, a three-piece band from Thessaloniki, Greece formed in 2012 who play an infectious brand of riff-based stoner rock with some psychedelic influences. What's different about this Greek trio is that their music is purely instrumental, basing their style and songs around a heady mix of stoner rocking and mind-tripping psychedelic jams, complete with robust bass lines and thunderous drumbeats. Having released two self-produced demos in 2012 and 2013, 2014 saw the debut EP Sanatorium which was followed by the band's testing themselves on the live circuit with several gigs in Greece, including an appearance at Fuzztastic Planet Festival. The trio recorded their first full-length 'Ammu Dia' in 2015 and followed it quickly with 'Electricon'.
With six tracks clocking in at over 40 minutes, Arrakis present album number three, 'Technotology Vol I', a pulsing trip that permits massive opportunity for instrumental exploration and freestyle expression. Kicking off with 'A Night in Tokyo', the groove is immediate; the rhythm frantic yet controlled and the intensity high. Its immediately attention grabbing. It gets better as it progresses as well, the wall of noise created by the thick bass lines and crashing cymbals interspersed with Sci-Fi effects and howling guitar that nod to the Space Lords Hawkwind as well as Monster Magnet and even Karma to Burn. Tracks such as 'Dream Explained' and 'Misophonia' switch between thumping riff heavy stoner and random psychedelic adventure, at times reminiscent of The Groundhogs on their seminal 'Split Part I' album. 'Animan' is a wild ride, with raging tempos and punishing riffing. The Greeks conclude this voyage of chaos with a nine-minute monster, 'Hypothalamus' which soars skyward from the opening bars, driven by the rhythm section which veers crazily from Mastodon to Gonga and all stations in between. Hell, there's even occasional echoes of the ghosts of Cliff Burton and Lemmy in the booming bass lines. It's a fuzz strewn roller coaster of a ride which should appeal to a wide range of fans. Do I recommend it? Oh yes. If you like your stoner rock with an acid tab under the tongue, climb on board and hang on tight. It's worth every minute.
Arrakis release 'Technontology Vol I' on January 9th.