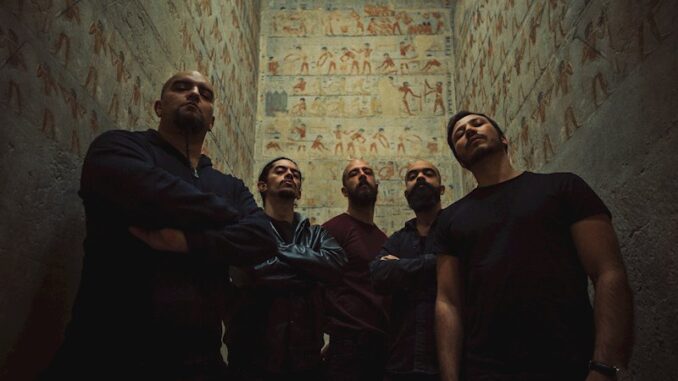 Interview: Sammy of Scarab
Interviewer: Tim Finch
Scarab are arguably Egypt's biggest heavy metal export. Just a few weeks ago they released their third album, Martyrs of the Storm, via Black Lodge to much critical acclaim. So when we at The Razor's Edge got the opportunity to sit down with Sammy and chat about the new album we jumped at the chance.
The Razors Edge: Many of our readers in the UK will not be familiar with you, so just quickly... can you introduce yourselves... who are Scarab?
Sammy: Greetings we are Scarab, a death metal band that was formed in 2006 in Cairo/Giza, Egypt. The name Scarab is influenced by the band's roots being from Egypt. It is taken as a symbol of rebirth after the Ancient Egyptians.
The Razors Edge: Martyrs of the Storm is the first album in five years. Was the bands hiatus planned?
Sammy: There wasn't any pauses actually, we had three members quit the band so it was only myself & Al Sharif Marzeban that was left to serve Scarab and compose the music for the album and figure out the right people to work with and new members that are in alignment with the band's spirit.
The Razors Edge: I guess the break was a chance to re-group as a unit?
Sammy: We wouldn't say it was a break; it is more of a reconciliation and regeneration of Scarab's identity. The work flow on the album and also live shows did not stop. We had a tour in the UK 2016 and later after it we opened for the band Nile in Dubai 2017.
The Razors Edge: Did anything specifically trigger the return of the band?
Sammy: Let's rephrase this better. Scarab never stopped and the main trigger of not stopping is having something in which we believe is great and an artistic burden that we had to release off of our shoulders, it is an oath and a responsibility to continue Scarab's message.
The Razors Edge: So getting back together to write five years after the last album, has anything changed between you all? Ways of thinking? Writing styles maybe?
Sammy: What we can say is that 'Martyrs of the Storm' even though Al Sharif & I composed all of the music from start to finish; feels larger than us, having to invite a lot of musicians (Karl Sanders of Nile, Joe Haley of Psycroptic, Amduscias Baal of Temple of Baal, Paul Nazarkardeh of De Profundis & Formicarius, Ashraf Loudiy of Aeternam, Tarassenko Nikita of The Contradiction. Arran McSporran of De Profundis & Virvum) all in which they have implemented their unique energy into the album. As far as change, it is constant, we cannot write the same music but rationally speaking having the addition of our new drummer Amir El Saidi added a very unique and different touch that we were pretty much looking for!
The Razors Edge: How much does your Egyptian heritage influence your writing and the subject matter of the songs?
Sammy: It is the inevitable being born and raised in Egypt. It naturally finds its way into our music whether artistically or thematically. In our case we believe that we add a modern touch to our depiction, it feels much more real and honest that way. Rather than portraying the band in some long lost historical gimmicks that doesn't feel honest. We somehow always tend to reveal in our work that Ancient Egypt also has streams of influences on and/or similarities with many civilizations & cultures including our modern times. This is something that always finds its way into the concepts of our artwork and also lyrical content ever since the beginning.
The Razors Edge: The album is a monster, you must be pleased with the final product?
Sammy: We are, we feel that hard work paid off and as a final outcome it came out even better than what we have expected it. That makes us in awe, and we hope that people will relate to it and that it reaches their hearts.
The Razors Edge: Coming from Egypt, how have fans in other nations around the world accepted you?
Sammy: Always we have had a great time performing abroad, the worldwide metal community is based on freedom and respect and this is what we have been receiving always. Thankfully we always gained a lot of fans after each performance. It feels great that people can connect with our music.
The Razors Edge: What is the extreme music scene like at home in Egypt?
Sammy: It is very small, there is no market for metal, no labels. But there would be a show every now and then and there are now many bands that are writing and distributing their music worldwide, also touring and putting shows abroad. Such as the Egyptian bands Crescent and Oudios. There is more and more coming out, you have to search the Egyptian metal scene and hopefully you'd find things that appeals to your taste.
The Razors Edge: How does the scene differ from those in Europe and North America?
Sammy: Much different. It is very difficult to have a metal band in Egypt, nevertheless if it was extreme metal. As we explained, there isn't a market whereas in Europe and North America there are continuous shows and a band can do several tours, it is flourishing. In our case we have to either relocate in order to really take this as a serious career 'not that we aren't serious about it' but that's in term of rational thinking. Or we have to constantly travel back and forth which is very costly for any band from Egypt. It is a very hard equation that needs a lot of sacrifices to be made.
The Razors Edge: So with Martyrs of the Storm about to come out what's next for the band? Where do you go from here?
Sammy: We write new material, and hopefully the world would be washed away from this virus that is canceling a lot of shows nowadays in 2020. Looks like 2020 is a dead season, but we wouldn't want to jinx it, we are always open for possibilities. Hopefully we work out a good tour in Europe and/or North America soon!