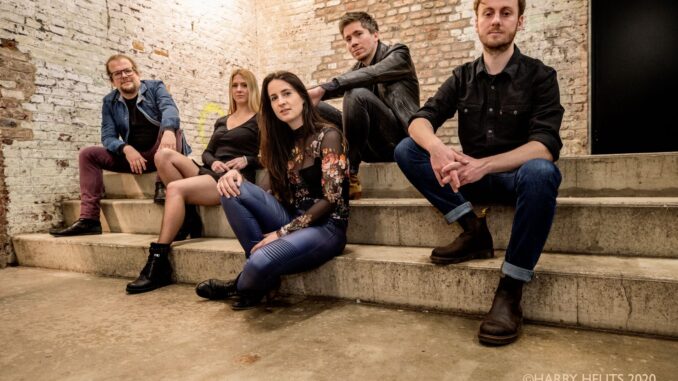 Album Review: Lesoir - Mosaic
Reviewed by Paul Hutchings
It was only just over a year ago that I first encountered Lesoir. The Dutch five-piece were support to Polish prog maestros Riverside and Lesoir were the support for their five-week European tour. In Bristol, Lesoir were superb, their opening set full of soaring cinematic soundscapes, the bulk of their set drawn from their 2017 album 'Latitude'. They were the ideal foil for the Poles. And it was to 'Latitude', their fourth long-player that I returned before turning attention to 'Mosaic', album number five. Having refreshed my memory banks, what is instantly noticeable on 'Mosaic' is the more relaxed yet consistently creative approach. There is less anger here. It is open and honest but retains a dynamism which the band have developed so organically through their ten-year journey.
I'd talked with a good friend about Lesoir when we watched them together at that Bristol gig and we had agreed on the night that it was difficult to label them or put them in a single genre. Unsurprisingly, it is the progressive badge that they wear, the comparisons with post-rock outfits such as Anathema, The Porcupine Tree, Steven Wilson, and Gazpacho inevitable but I would wager welcome. These are artists at the top of their craft, after all.
On 'Mosaic', it is the hypnotic and ethereal delivery that immediately captivates and enchants. The title track which opens the album finds lead singer Maartje Meeseen in magnificent form, her soaring vocals ably supported by the backing harmonies of rhythm guitarist Eleen Bartholomeus. And yet there is ample fire on 'Is This It?' which follows 'Mosaic', driving edgy guitars pushing the song to a dramatic crescendo.
Delightfully, Lesoir continue to follow their previous works with multiple variations throughout 'Mosaic'. Changing style and tempo on every track, the creativity that fuelled the Dutch tank following that Riverside tour is evident. 'Somebody Like You' moves towards the symphonic sounds of bands like countrymen Delain, albeit in a more acoustic and less dramatic approach. We have the drama on 'The Geese', the Eastern feel on the introduction to the delicately structured 'Measure of Things' and the instrumental Floydian workout 'Dystopia', subtle references to 'Breathe' in its circling riffs and expansive progression.
But what really makes Lesoir special is the blend of melancholic, multi structured layering, that can merge elements of rock, pop and even classical in a kaleidoscopic of colourful contrasts. Nine songs here and each varies magnificently in style, shape, and length.
Whilst 'Mosaic' may be more measured than previous offerings, that's not to say that there is any absence in quality. A decade after their debut release, Lesoir have reached a pivotal moment in their musical journey. Crafted with love and patience, hope and artistic integrity, the musicianship reaches newly discovered heights. The subtle guitar work soars, the rhythm section is tight and always maintains direction, which paves the way for Meeseen's beautiful vocals to guide each song to the correct path.
Produced once more by John Cornfield (Muse, Robert Plant) and mastered by Steve Kitch Audio Mastering UK, three years after 'Latitude', Lesoir have delivered their finest work; it should be widely shared, explored and appreciated.
'Mosaic' will be released by Glassville Music on May 4th.