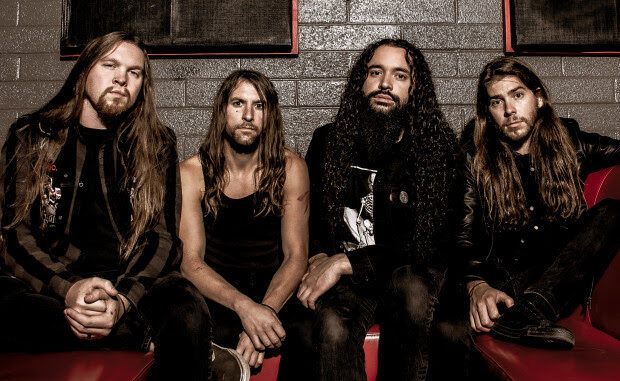 Album Review: Havok - V
Reviewed by Paul Hutchings
Three years since the Colorado thrash outfit hit us hard with 'Conformicide', Havok return with arguably their most mature and intense album of their career. Band leader David Sanchez (lead riffs and vocals) is joined once more by Reece Scruggs (lead guitar), Peter Webber (drums) and bassist Brandon Bruce, who makes his Havok debut.
Whilst 'Conformicide' was by no means a bad album, 'V' is a tighter, more structured and composed album. With all members of the band involved in the writing process, the subtle nuances are evident, the songs more layered and the compositions more intricate.
If you are familiar with Havok's previous works you'll know that Sanchez isn't shy of social commentary. This is once more at the forefront of the driving thrash on 'V', with opening duo 'Post-Truth' Era and 'Fear Campaign' focusing on the media driven world, and the stupor which it draws people into. Whilst Sanchez isn't being evangelical, he's certainly raising the issues. Similar sentiments are shared on 'Cosmetic Surgery' and 'Betrayed by Technology'.
Sharp, heavy on the riffs but with a more considered and mature approach, Havok are pushing towards the front of the queue with 'V'. It's a very solid thrash metal album, taking the old school rawness of Exodus, Testament and Death Angel, repackaging the style and giving it a fresh modern sound without losing any of that vital edge that is necessary for good quality thrash.
It isn't all progressive mind, and there's some good old heads down thrashing on 'Phantom Force', which leans towards the Kreator style of aggression; or the ferociously short but in your face pulse of 'Merchants of Death'.
It's the closing track that really stamps its mark on this album. 'Don't Do It' explores the angst and emotion which pushes thousands of youngsters to take their own lives each year. Tough subject matter, given a secure base in the eight-minute long track. Echoing the type of classic that Metallica and Megadeth have long used, 'Don't Do It' starts slowly and acoustically, atmospherically building with every chord before moving into more familiar territory, a chugging stomp which brings home the seriousness of the subject matter. Sanchez's lyrics hit hard; his singing as clean as you've ever heard. The song develops to a frantic crescendo reached before a delicate piece of Spanish guitar concludes the track and the album. With a stunning album cover designed by artist Eliran Kantor (Testament, Iced Earth) providing the perfect visual accompaniment, Havok have moved into the premier league of thrash. The new order is here!
'V' is released via Century Media on 1st May