Album Review: Vader - Solitude In Madness
Reviewed by Neil Bolton
A band that first appeared way back in 1986, Vader's first musical direction was thrash/speed metal. Several band members later they embraced a more extreme death metal sound. Bringing them to the attention of Carnage Records who then went on to record the demo 'Morbid Reich'. This has the accolade of being the best selling death metal demo ever recorded to date, not only growing their popularity in their home country of Poland, they also became exposed to the rest of the world. Soon after this another accolade was achieved when MTV broadcast their video for 'Dark Age', making them the first Polish artist to appear on the channel.
Vader have forged out a name for themselves, releasing eleven studio albums, touring the world and winning several awards along the way. All the time providing brutal finely crafted heavy music. Including a few masterful cover versions. Their twelfth studio album is called 'Solitude In Madness' and is soon to be unleashed. I use that word purposely, because any restraining bolts or bonds to hold them back are well and truly removed.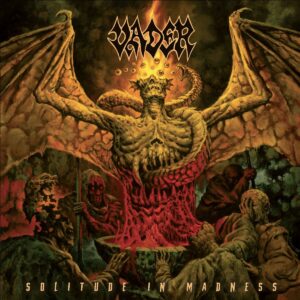 The first track smacks you in the head and orders you listen to it. 'Shock and Awe' does not need any subtle interpretation, job done and dusted with a sinister laugh to end the two minute sixteen second banger. The next is just as brutal and short in length. 'Into Oblivion' has Piotr "Peter" Wiwczarek displaying his splendid death metal vocal delivery. You can still hear the thrash/speed metal influence in their death metal music, a trope that has thankfully continued on from their early incarnation. Mashing thrash riffs with brutal death vocals, throwing in death musical sensibilities along the way. And the drumming! Ohh the drumming.
Honestly, the problem is that this album is playing while I type this review and I have sadly had to turn it off, I cannot concentrate. I just want to thrash around. I have air drummed so much with no chance of keeping up with the manic speed and precision of the amazing James Stewart on Drums. Then air guitaring and nodding my head with that smug smile on my face that appears when a riff gets hold of you and won't let go. Calm down and back to work. Admittedly it not really work, and as the track 'And Satan Wept' thrashes around my head I am reminded just of that fact. This album is immense.
Many bands finish their records with a final long epic recording. Vader are no different. Only this long epic is just short of four minutes in their world. 'Bones' brings this gathering of metal to a close, and what a metal closer it is. It's a little slower for a while, reaching a speedy finale after a soaring guitar solo.
Any fans of Vader already will be very, very happy, nee ecstatic, with this release. Any fans of thrash or death metal who are yet to enjoy their work should try out this band. I would be very surprised if you don't succumb to the Polish Metal Gods appeal.
'Solitude In Madness' is released via Nuclear Blast on May 1st!