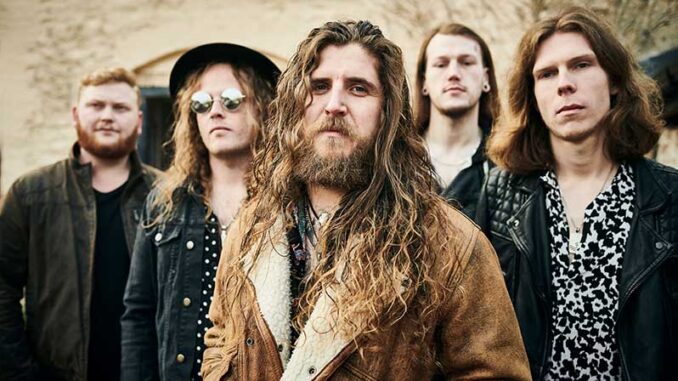 Album Review: Bad Touch - Kiss The Sky
Reviewed by Paul Hutchings
My first encounter with this engaging classic rock outfit was at Download in 2014. Their short set was captivating, and their set supporting Snakecharmer the following year only sealed the deal. Since then, I've seen the band a couple more times since then, their live shows always massively enjoyable. During the six years since that first meeting the band have released three albums. I was less than enamoured with their second release 'Touch the Sky' although 'Shake A Leg', album number three was a decent return to the stomp of their fine debut 'Halfway Home'.
Studio album number four has now arrived, and' Kiss The Sky' sees the band back on form with their best album yet, one that is stripped back to those same early influences and a vibrancy I've not heard since 'Halfway Home'. Those influences remain predominantly The Black Crowes, for it is the Georgia rockers whose style is once again most in evidence here. Touches of The Temperance Movement (such a fine band who have sadly imploded), The Answer, a splash of Southern boogie and roots soaked with the swagger of Zeppelin and Aerosmith complete a fine blend.
'Kiss The Sky' is confident without being arrogant. Bad Touch are now an established hard rock band, one of the leading lights in the new wave of classic rock field, and here they demonstrate their chops, honed by a touring ethic that makes them amongst the hardest working bands in the UK. They've introduced more soul and funk to their sound too. Check out 'I've Got The Music In Me' if you disagree. A massively addictive track, it includes a devilishly catchy brass section, sweet backing vocals and a hugely enjoyable vibe all brought together with a joyful, almost gospel feel.
'Kiss The Sky' is frontloaded with some mighty fine songs. The driving riff on opener 'Come A Little Closer' draws you in from the off, the harmonies which support singer Stevie Westwood, thick slabs of Hammond organ and some fine guitar work which continues throughout all combine to great effect. Bad Touch can slow it down too, with' Can You Save Me' allowing an opportunity to catch breath after the excitement of the first five songs. The powerful 'Something About You Kiss' which closes the album is cut from a similar cloth. Measured but oozing quality, both tracks smoulders gently, with a bluesy soul and sweet lead breaks. It's a maturity in the band's writing that is great to hear.
Several songs stand out on an album crammed with quality hard rock, one being the title track. A good time stomping song, a cracking hook, and an amalgamation of everything the band do so well. Think early The Answer and you've got the flavour. I'm less excited by the obligatory ballad 'See You Again', but Bad Touch's sentimental ode to loss is well constructed and lifts well with some lovely guitar, the strings and piano adding to the emotion.
It's evident that Bad Touch have stripped back their sound on 'Kiss The Sky', and put every sinew into the song writing. They've captured the live feel of their shows and the energy of 'Halfway Home', the swagger and pomp undeniably back. Tracks like 'Strut', 'Before I Die' and the punchy 'Too Much Of A Good Thing' all scream good times. This is the band's best album without a doubt.
Recorded, produced and mixed by Nick Brine and mastered by Pete Maher at the legendary Rockfield Studios in Monmouth, 'Kiss The Sky' captures the high energy style of the band's shows. Vocalist Stevie Westwood commented "We're so excited about this recording. Just to record our songs in such a legendary place as Rockfield was a real buzz. I know it's a cliché but, in our humble opinion, this is our most exciting recording to date, and we can't wait to get it out there in front of a crowd."
Hit badly by the cancellation of gigs, Bad Touch will surely hit the road hard as soon as they can, and these songs will be massively enjoyable additions to their live set.
Bad Touch are Stevie Westwood – Vocals, Robert Glendinning -guitar, Daniel 'Seeks' Seeking – guitar/vocals, Michael Bailey – bass and George Drewry – drums/vocals.
ICYMI - Check out our interview with Bobby and Mark here.