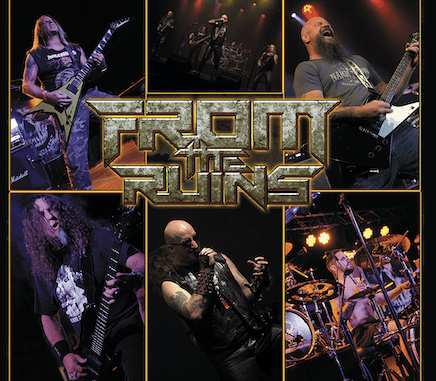 Album Review: From The Ruins - Into Chaos
Reviewed by Gareth Pugh
'From the Ruins' are a 5 piece thrash band hailing from Reno, Nevada USA, and 'Into Chaos' is the band's first release, a 6 track E.P. inspired by Death Angel, Kreator and Slayer as well as the melodic leanings of Metal Church and Savatage.
I suspect they may have a few other influences as well, as after hitting play on first track 'No Honor', I thought I'd put on the wrong album, as the intro is a carbon copy of Megadeth's 'Sweating Bullets' (2004's remastered version, not the original), no problem mind, as the song quickly changes tack into it's own identity, with a strong melodic riff and a propelling rhythm section before the powerful vocals of Isaac Wilson cut in. Isaac reminds me of Joe Comeau ex-Annihilator and Liege Lord vocalist (and ex-Overkill guitarist), which is no bad thing at all, and it's a solid opening track.
'Contract Killer' follows with Chuck Reyome and Scott Schilingheyde's dual axe attack providing some solid riffage, nicely underpinned by Robert Landers and Jim Wilson on bass and drums respectively, again strong vocals and a strong chorus, I'm especially impressed on this one with the slowed down bluesy outro, nice touch. 'We Fight' sees the more melodic side of the band, it's a little bit slower to start, again with a nice blues influence, before galloping off towards the sunset, with a large Maiden influence, but again, very well executed. 'Chaos' is up next and ups the tempo and incorporates a cool heavy start-stop refrain which seems built for the live crowd. 'Divided' again has a familiar intro influence, this time a certain horror film, with a possession theme! The track itself is slower and heavier than some of the others on offer here, with the intro theme reoccurring, it's the longest and most complex track here but doesn't drag and the band uses the extra time wisely. Last track 'Eye for and Eye' is probably the thrashiest number on the record, and Isaac, here sounds a little like Zetro, and sets up a nice end to an impressive debut.
The production is excellent, the guitars have a nice crunch to them, and the bass and drums are also clear and punchy and sit nicely in the mix, while the vocals are clear and powerful throughout. This is a very solid start for an obviously talented band, it's not exactly going to pull up any trees, but it's a very firm foundation for the band to work from. Good effort.