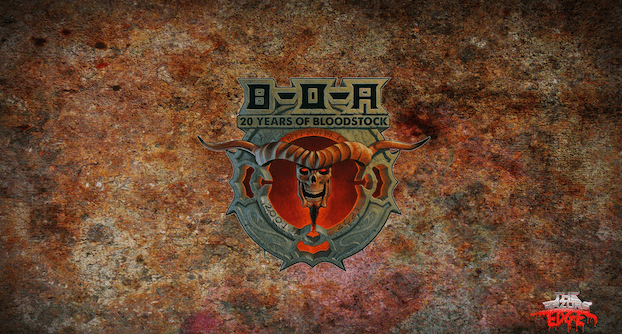 Bloodstock 2020: Bloodstock Wherefore Art Thou?
by Robbie Maguire

So there you are mid-afternoon, relaxing in the blazing summer sun as the British summertime continues to deliver its long overdue goodness. Travelling through the air you hear the distant laughter clashing with the shrills and screams from those on the funfair. You watch in amazement as axes are hurled at a huge slab of hardwood by eager denim and leather clad men and women cheered on by their friends. Laughter and good natured chatter resonates from the revellers drinking at 'Lemmys Bar' whilst a Viking long ship is being prepared behind a huge curtain as a band plays on dutifully in front of it to the adoring masses. There may have even been T-Rex circle pitting down the front. Oh yeah and Jesus Christ has just walked passed throwing the devils horns in your direction. No, this is not made up. Ok maybe the bit about the blazing summer sun in the British summertime is made up but the rest is all very true. It may be a rare occurrence, an annual pilgrimage for many, but like many of the best things in life they only come round every so often.
Welcome to Bloodstock Open Air!
If you've ever been to the much loved festival at Catton Park in Walton Upon Trent you will be aware of the kind of sights and sounds I am indeed writing of. Those images and events that occur at the festival which all add to make it such a well-loved experience. The immediate physical and visual joys that give you that instant feel good factor which remains for your duration be it a long weekend or just for the day. However, you will also be aware of the other things that seem inherent in the Bloodstock success that you don't necessarily see straight away. Heavy metal in the UK prides itself on its 'community' spirit. Very much like the old mosh pit adage 'if you see someone go down, you pick them up'; there is a strong underlying sense of unity at Bloodstock. Could this be that the Gregory family who run the festival are able to cascade that sense of belonging and togetherness right down to the punters? However it happens is unknown but when you hear of people working at the festival and talking of the "Bloodstock family", you know they are not merely referring to the Gregory's but in a wider sense and you know that there is real meaning and depth to the term.
What is this unique feel that Bloodstock has that many other festivals don't appear to be able to offer? Since its inception (originally starting as an indoor festival and moving to an outdoor two day live event in 2005) the festival has retained that small – medium sized feel despite growing into the huge operation it is today. The capacity of approx. 18,000 revellers means that the layout of the entertainment area of the site can be compact enough to ensure the relatively short distance between stages. Let's face it you don't want to come home from a weekend of watching live music and feel like you have walked a couple of marathons walking to and from various stages.
So how in such a relatively short space of time has Bloodstock established itself as one of the premier festivals in the UK and one of the often preferred choice for many metal fans when it comes to the festival choices for their summer trip. Let's go back to the start. Back in 2001 when there was no Download or many of the other key dates in the festival calendar those looking for a weekend away enjoying Metal had to look to Europe for their yearly summer fix of camping and outdoor music. Capitalising on this the seeds were sown and slowly but surely the Bloodstock machine started gathering pace as it victoriously developed its reputation as a strength in not only the British but also the busy European festival season. The booking of bigger names and bold, brave decisions taken on bands shows the foresight but also astute understanding of the Bloodstock audience. An audience that returns year after year after year. These people are returning not only for the bands but as much for the experience itself. That speaks volumes and shows how deeply loved this is by the Festival going people.
The Booking of the legend Ronnie James Dio in 2010 with Heaven and Hell was one of the many key moments in the history of Bloodstock. Just as important as moving from an indoor festival to outdoors and the key bookings of bands like Testament, In Flames and Stratovarious in the early days the best and most revered in metal were never far from Catton Park. Unfortunately Heaven and Hell would not play as Ronnie James Dio lost his battle to cancer shortly before that summer. The legend however would be immortalised though in the respectful naming of the main stage in his honour. Similarly another person remembered, celebrated and their legacy continuously preserved is Sophie Lancaster. There is no denying that the very stage and tent bearing her name for that long weekend is a very special place. For those who don't know Sophie was killed for no reason other than she looked different. Her mother set up a foundation in her honour to educate and stamp out hate crime. The joyous sight of seeing a couple of thousand people, from all different walks of life, different beliefs, celebrating music and simply having a great time together is simply a beautiful sight. The fact it is in the Sophie Lancaster stage is again a fitting tribute. The 'Sophie' stage as it is known has seen some of the most memorable performances in recent years. Everyone has their own personal choices but for me Suicidal Tendencies in 2018 were moved from main stage to the 'Sophie' stage due to travel disruption. Despite the delay everything came together… a great live show, sound, crowd participation and atmosphere. Sometimes it's as though it's written in the stars. What followed was one of the most intense, joyful celebrations of heavy music that I have witnessed in years. This magical performance made all the more memorable being in the Sophie stage and the aura that that certain area of the Bloodstock site holds.
The need to deliver this most loved of events is now out of a business necessity as I am sure a labour of love and vocation. In 2019 mother nature somewhat disrupted the festival with the Ronnie James Dio stage needing to be close for a while due to high winds. Whilst the campsites were battered with gazebos and tents being uprooted and blown away the heavens opened threatening to properly dampen down the site however the "Bloodstock Family" continued beavering away to ensure the experience was still delivered. It seemed from a punters point of view that everyone from crew to cleaners, security to bar staff all pulled together and the invisible team behind the scenes worked through the very possible chance of cancellation on safety measures to still offer a memorable festival.
Here in lies one of the most important decisions you will make as a punter… Wellies or not? What starts as a wonderful day could within a few hours turn into a rainstorm of biblical proportions. Whilst the odd well oiled up person may take advantage of the mudbath and go sliding head first on their chest down the main walkways, at least in your wellies you can stand back and enjoy the free entertainment with dry feet. Indeed where else is there such an array of entertainment on offer. Take in some powerlifting demonstrations, battle enactments or for those in the campsite the now legendary wheelie bin jousting. Have you seen it? An event very much a part of Bloodstock Folklore.
There are areas and elements of the festival that are unique and intrinsically linked to that one weekend in August. Metal 2 the Masses sees some of the best new bands who have won through their regional heats playing to a massive audience. With the UK weather as unpredictable as it is sometimes due to people seeking refuge from the downpour these bands can find themselves playing to a much larger audience. On many occasions I have witnessed some awesome talent in this tent and with the Hogboblin bar right next to it you get excellent beer and awesome music without going far. However, for a change in scenery a mere stone throw away is the main bar. The great Man himself 'Lemmy' is honoured with his own bar and with a decent showing of tables and chairs it is more of a social place to relax than merely a place to refill your pint pot.
There may well be a more well-known and much larger festival just down the road which takes part on the hallowed turf of the legendary Castle Donington but the steady rise of Bloodstock in stature, quality and value for money has seen it become a vital date in the summer calendar. There is enough room for both to operate and with each offering two different types of festival experience the onus is on us, the gig going public to make our choice. Despite leaving it late, now I have experienced a few Bloodstocks I will continue to make that my go to festival each summer. The smaller, more inclusive feeling yet seeing equally great bands over a weekend is where the pull is for me. There's always going to be a few bands that get announced that shock and please in equal measure but for me that is the strength of Bloodstock. Some of the great and memorable performances over the years have been from bands that many may have questioned their inclusion. Parkway Drive, Mr. Big or Europe anyone? That's the endearing nature of the Bloodstock line up though. There truly is something for everyone. European power metal always goes down well with a solid showing of bands from that genre year on year. Black, death, thrash, crossover, metalcore, hard rock you name it, it all gets a good representation over the weekend. With the Thursday evening traditionally being a party night with less bands playing, this will all change in 2021. Not it being a party night, that will obviously still happen, but with more bands playing. Due to the cancellation of this year's festival, next year sees Bloodstock open its doors on the Wednesday making it a five day celebration of the great and good in heavy music.
One question I often ponder is how big can it get? Hopefully not much more, though is my quick response. The physical size and layout of the festival is certainly part of its charm and its ability to remain as personal as a huge event can be. So as disappointing as it is that I wont be compiling a playlist for the road trip or meeting up with friends old and new and indeed making new ones that time will come again. As will seeing Vio-Lence play for the first time in the UK and the likes of Acid Reign, Sacred Reich, Svalbard, Conjurer and Paradise Lost on the Ronnie James Dio Stage. The line up looks to be most of this years and hopefully many more stellar acts to be added to the 2021 festival. Oh and it's the 20th year anniversary as well so should be a bit of a celebration.
If ever there is a reason to get out there and visit this festival I hope there are more than enough mentioned here. Don't go telling everyone though. Those who've been will know, those yet to go will discover those that have no intention of going will simply miss out! So on that note I am off to practice my axe throwing, see if I can't beat my personal best from last year. Mind you drinking copious amounts of mead from a horn and believing I was Ragnor Lothbrok may have impaired my vision somewhat!