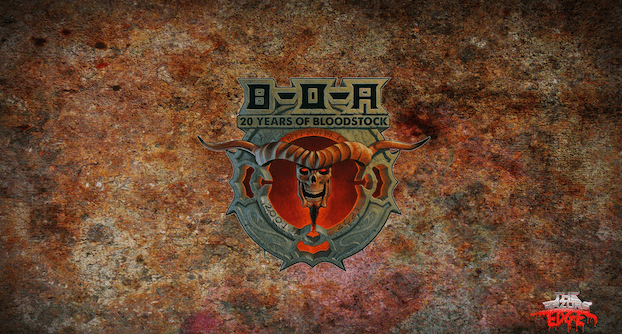 In keeping with previous years Bloodstock dangled a carrot head of the end of the 2013 show and announced a 2014 headliner: Emperor.  When the E logo flashed up on the side screens I was just about ready to stay at Catton Hall for the entire year to make sure I had a prime spot. Even better was the Black Metal legends would be playing on my birthday. It was enough to make a grown man weep.
Several Bloodstocks before, an acquaintance had said if he ever won the Lottery he would take a big pile of cash, plop it in front of Ihsahn and beg him to reform Emperor for one night only at Bloodstock. Sadly, that acquaintance did not make it to Bloodstock 2014 and did not see Emperor perform their In the Nightside Eclipse debut in its entirety.
The ship was righted in 2014. After the somewhat disappointing 2013 (entirely my opinion. If you loved it, great!) show the organisers delivered a crushing line up. Having already hosted the two best bands of the Big-4 Bloodstock went for number three and booked Megadeth to headline Sunday night. Leaving the top slot on Friday to Down, who turned up and played a show so laid back and unstructured as to create their own art form. Down topped a bill that included returning heroes Primordial, Entombed – now with the AD suffix – Dimmu Borgir and, after their successful show two years before, Hatebreed. And, although there was a distinct possibility of a restraining order (Cat!) Tommy Victor brought Prong to Catton Hall, and played a blinder.
The major drawback from the Friday of 2014 was that Down were booked to play at the same time as S.O.P.H.I.E. stage headliners, Rotting Christ. And although the stages are not a million miles apart both bands played such quality shows that night it was a tragedy not to have seen both in their entireties.
The Saturday line-up was almost a previous headliners reunion, with Lacuna Coil, Children of Bodom and Carcass all playing beneath Emperor. Earlier in the day another alumni of 2012, Crowbar, played but the hopes of Kurt joining Down the night before were never met. Norway's Blackjazz outfit, Shining, arrived to play a noon set, having been on stage at Brutal Assault a mere twelve hours earlier.
But the Saturday of 2014 – in fact the whole of Bloodstock 2014 – was geared toward seeing Emperor. It was my birthday and witnessing In the Nightside Eclipse played front to back and having the added bonus of a Bathory cover thrown in for good measure, was the best present I could have got.
The following day could have felt like a bit of a damp squib but for blinding sets from Aborted, Obituary and Saxon – who brought out a certain Dave Mustaine to play with them on Denim and Leather. Amon Amarth moved into the special guest slot and went down a storm – weather joke not withstanding, as earlier in the day the heavens had opened and turned the field into a quagmire. Amon are not a band I particularly like – they are very good at what they do and have a fanatical following and I admire that; it's just that what they do is not something I much care for. But I believe we are all entitled to an opinion and I fully acknowledge Amon Amarth are a quality live act.
My Sunday highlight, however, arrived at Catton Hall from the streets of Brooklyn, NYC: Biohazard. It was twenty years since the infamous stage invasion of Donington 1994 and their triumphant return to the mainstage two years later. Would it happen at Bloodstock? Surely the organisers know what's going to happen. And it did. During Punishment. The official video is up on YouTube and is brilliant. Even better is the GoPro footage from Paul 'Skinner' Foreman who is right in the thick of it.
Megadeth ended Bloodstock 2014 in style with a set of classic thrash metal. Some dismissed their status as Sunday headliner as a bit unimaginative, but when the history of the genre is written there'll be a whole chapter on Dave Mustaine. Bloodstock 2014 also poured water on the rumour Mustaine wouldn't play festivals if Rotting Christ were on the bill, due to his religious beliefs. Well, Rotting played a couple of days before and this didn't seem to bother Dave. And who was on after Megadeth in the tent? Satan. And if that wasn't enough to infuriate the fiery one then I think we can take those rumours with a pinch of salt.
Thursday: JALIDABOATH / Monument / Incinery / Gehitka / Balls Deep
Friday Ronnie James Dio Stage: DOWN / Dimmu Borgir / Hatebreed / Triptykon / Prong / Flotsam & Jetsam / Primordial / Entombed AD / Bloodshot Dawn
Friday S.O.P.H.I.E. Stage: ROTTING CHRIST / Skyclad / Diabolical / Winterfylleth / Deals Death / Zerozonic / De Profundis / Krokodil / Aghast! / Cambion / Gurt
Saturday Ronnie James Dio Stage: EMPEROR / Carcass / Children of Bodom / Lacuna Coil / Crowbar / Orphaned Land / Decapitated / Shining / Evil Scarecrow
Saturday S.O.P.H.I.E. Stage: HELL YEAH / Sister Sin / Battleaxe / Blood Red Throne / Obsidian Kingdom / Profane Omen / The Mercy House / Old Corpse Road / The King is Blind / Babylon Fire
Sunday Ronnie James Dio Stage: MEGADETH / Amon Amarth / Saxon / Obituary / Avatar / Biohazard / Revamp / Aborted / Arthemis
Sunday S.O.P.H.I.E. Stage: SATAN / Graveyard / Collibus / Krow / Stormzone / Stahlsarg / Voices / Morgue Orgy / Haerken / October File / Aaron Keylock
There was no announcement for bands at the festival and we had to wait about a month before Bloodstock releases the first 2015 names: Within Temptation as Saturday headliner and Opeth as their special guests. As time ticked on more and more bands were added to the bill and the more added the better it became. On Halloween 2014 it was announced Rob Zombie would headline the Sunday and that was about as good an announcement as Emperor had been. And again, it would be on my birthday.
The trolls were out for Trivium when it was announced they would be headlining Friday night, but by this stage the worst of the infuriated keyboard warriors had become white noise. On the day, however, Trivium delivered the kind of show they were promising ten years earlier when they were touted as Metal's Great White Hope. You knew 2015 was going to be special when the Friday main stage is opened by Nuclear Assault and features Armoured Saint, Enslaved and Overkill. Sabaton played a huge set and laid claim to a future headliner slot (and I repeat what I said about Amon Amarth, just insert the name Sabaton).
Saturday gave us 1349, Napalm Death, Dark Angel and Death DTA and with all that weight you might have expected Opeth and particularly Within Temptation to feel a little bit light-weight and frothy. No chance. Opeth killed it with a clear and precise set of old and new material and Within Temptation played it like Sharon was the Queen of the Prom. Even the technical difficulties just seemed to laughed off as part of the live rock and roll experience.
Sunday would see Rob Zombie joined by Cannibal Corpse, Pro-Pain and Orange Goblin – but especially Sepultura. Marking their first return since 2012, Sep were celebrating their thirtieth anniversary and any notion that the band were finished and limping along in need of a Cavalera injection [stat] was misguided.
Rob Zombie didn't bring the video screens that had formed his stage show on the 2012 Twins of Evil tour but that hardly mattered as he played with an effortless swagger and knocked out hit after hit. When the industrial pulse of More Human Than Human washed from the Bloodstock PA there was nowhere else I wanted to be.
The S.O.P.H.I.E. tent was choke full of great bands in 2015 too. Conan, Onslaught, Lawnmower Deth, along with headliners Delain and Fleshgod Apocalypse. Hidden in the middle of the day it could have been easy to miss Mordred but that would have been a real shame as they played a superb set of danceable thrash classics. And after the last notes of Rob Zombie had faded and Bloodstock 2105 prepared to consign itself to the history books, only the nihilism of Godflesh could provide the soundtrack to this particular apocalypse.
Bloodstock 2015 is head and shoulders my favourite Bloodstock show and ranks up there in the top three three-day festivals I've ever been to, alongside Hellfest 2009 and Graspop 2008.
Appetites were whetted for 2016 with the announcements of Behemoth, who would play their The Satanist album in its entirety, and one of the founding fathers of extreme metal: Venom.
Thursday: ARNOCORPS / Red Rum / Desecration / Metaprism / Reign of Fury
Friday Ronnie James Dio Stage: TRIVIUM / Sabaton / Overkill / Ihsahn / Enslaved / Belphegor / Armoured Saint / Raging Speedhorn / Nuclear Assault
Friday S.O.P.H.I.E. Stage: DELAIN / Conan / I am I / Hang the Bastard / Fire Red Empress / Ne Obliviscaris / Re-Animator / Messiah's Kiss / East / Oaf / Silas
Saturday Ronnie James Dio Stage: WITHIN TEMPTATION / Opeth / Death DTA / Dark Angel / Napalm Death / Korpiklaani / 1349 / Savage Messiah / Xerath
Saturday S.O.P.H.I.E. Stage: FLESHGOD APOCALYPSE / Jettblack / Planet of Zues / Burgerkill / Mordred / Battalion / Godsized / Jasad / Ethereal / Ageless Oblivion / Annahilated / Pist
Sunday Ronnie James Dio Stage: ROB ZOMBIE / Black Label Society / Cannibal Corpse / Ensiferum / Sepultura / Pro-Pain / Orange Goblin / Wolf / Agalloch
Sunday S.O.P.H.I.E. Stage: GODFLESH / Onslaught / Trepallium / Lawnmower Deth / Destrage / Saille / Ol Drake / Alunah / Villainy / Dead Label / The Ixzuna Drop / Triaxis
The first headliner announced for 2016 was Mastodon with Slayer and Twisted Sister to follow shortly. It was a real coup for Bloodstock to get Twisted Sister for 2016 as these would mark the final UK show from one of the seminal metal bands of the 1980s. Some felt that Slayer's 2013 show was marred by the disruption in the camp and the recent death of Jeff Hanneman a more matter of months before the August show. Their 2016 return provided the chance for Slayer to deliver something truly devastating.
Some of the announcements for the 2016 show were, on the surface, strange. Misery Loves Co. and Stuck Mojo seemed to come out of nowhere but on the day both bands played blinding shows. The likes of Heart of a Coward and Unearth further promoted the newer bands who played music outside of the normal, accepted Bloodstock genres. Corrosion of Conformity came back after four years, this time as a four piece with Pepper Keenan in tow after his appearance with Down in 2014. Rotting Christ had moved over to the main stage and I was lucky enough to be able to watch their show from the side of the stage. Gojira continued their stead climb up the bill and Anthrax repeated their billing as Slayer's special guests.
2016 seemed to be a nostalgia show as Behemoth, as previously announced would play their The Satanist album in its entirety. Not to be out done Fear Factory, still on the twentieth anniversary tour for Demanufacture, played their 1995 masterpiece start to finish. It was a beautiful thing to see in Manchester the previous December and in the sun of an August afternoon, filled with festival beer, the nostalgia trip was a blast. Satyricon, not to be outdone, completed the hat-trick and gave 1996's Nemesis Devina a twentieth-year airing.
The tent saw Diamond Head, Acid Reign and Goatwhore headlining, with Norway's Shining coming back and giving the kind of blinding and dynamic show they deliver night after night. Some can't take to the eclectic nature of Shining's music but, personally, I think they are a perfect festival band.
It would be impossible to mention 2016 without mentioning Lemmy. The great man had sadly passed away the previous Christmas and the metal-world was still reeling at the loss. The number of Motorhead shirts on site matched the number of Slayer shirts and, in tribute, the Bloodstock organisers had renamed the main bar as the Lemmy Bar, a name it still bears to this day. Many of the bands paid tribute to Lemmy throughout the festival, but obviously none more so them Phil Campbell.
His All Starr Band headlined the S.O.P.H.I.E. tent on Thursday with a heartfelt set. The highlight had to be when Dee Snider joined the band and ripped through Born to Raise Hell in tribute. We all laughed, we all danced, we all shed a tear and raised a glass to a man most of us knew only through his music; but it was music that had touched our very souls. Like Ronnie James Dio before him, Lemmy is another God who has been called home.
Thursday: PHIL CAMPBELL'S ALL STARR BAND / Psykosis / Sumer / Kartbdis / Sublime Eyes
Friday Ronnie James Dio Stage: TWISTED SISTER / Behemoth / Venom / Corrosion of Conformity / Stuck Mojo / Misery Loves Co. / Evil Scarecrow / Gloryhammer / Hark
Friday S.O.P.H.I.E. Stage: DIAMOND HEAD / Beyond the Black / Beholder / XII Boar / Foetal Juice / The Charm The Fury / Meta-Stasis / Anticlone / Brutai / Boss Keloid / Fury
Saturday Ronnie James Dio Stage: MASTODON / Gojira / Paradise Lost / Fear Factory / Rotting Christ / Akercocke / Vallenfyre / Kill II This / Cambion
Saturday S.O.P.H.I.E. Stage: ACID REIGN / Shining / Bull Riff Stampede / One Machine / Misanthrope / Vodun / This is Turin / The Raven Age / Mage / Heretic Order
Sunday Ronnie James Dio Stage: SLAYER / Anthrax / Symphony X / DragonForce / Satyricon / Metal Allegiance / Unearth / Heart of a Coward / Ghostbath
Sunday S.O.P.H.I.E. Stage: GOATWHORE / Pythia / Memorium / Vektor / Whispered / Derange / Witchsorrow / Divine Choas / Krysthla / Sanguine / Desert Storm
In the interests of full disclosure I think it only right to state from the outset Bloodstock 2017 is my least favourite. And by quite some distance. I like an eclectic bill but this year it seemed to be too much of a mis-mash with no apparent cohesion.
It feels as though the signs were there when the first announcement didn't take place until November of 2016 and as the announcements were made they felt just a bit under-whelming. This is all from a personal point of view and you may consider 2017 to be the best Bloodstock in the way I feel about the 2015 show. If so, then that's great, but this is my view and this year was just plain uninspiring.
Dani Filth finally made it back to Bloodstock, eight years after the gob-stopper incident, fronting Devilment. He made a few quips about dodging flying confectionary and gave us hope that Cradle of Filth's return to Bloodstock would not be too far off.
It wasn't a complete disappointment, though. The Saturday line-up on the main stage was a peach, with Ghost topping off a quality day of music. I'm not a Ghost fan particularly but they never seem to deliver anything other than an entertaining show. Kreator brought a full stage show, even bigger than the one they brought to Catton Hall in 2011 and Hatebreed ensconced themselves as being one of Bloodstock's most reliable bookings.
My 2017 highlight was King 810. Massively divisive when announced but it was King's booking that shifted my opinion of the 2017 show from being a repeat of previous festivals to being forward thinking. Some people hated them before they took the stage due to their reputation, some people hated them before they hit the stage because they saw them as Slipknot-lite. Some people hated them and had their opinions changed, some hated them and didn't. King 810 played forty of the most thought-provoking and ferocious minutes of the festival - and were really nice guys in the signing tent too.
I cannot get into Skindred. I've seen them a few times at festivals: Damnation 2006 and Hammerfest 2012 and can appreciate their following, but it's just not my cup of tea, I'm afraid. I only saw part of their Bloodstock set as I moved from the S.O.P.H.I.E. stage to the New Blood, but the field was packed with folk twirling their T-shirts over their heads. It was obvious the band have a massive and fanatical following and were preaching their Sunday sermon to the choir. I'm quite shocked it took so long for Bloodstock to get Skindred to Catton Hall and, had events been different, they would no doubt have wowed again this year as special guest to Devin. It is surely only a matter of time before their name is at the top of the poster and, although I'm not a fan, they will have fully earned that position.
Thursday: BATTLE BEAST / Wind Rose / The Infernal Sea / Gurt / Ramage, Inc
Friday Ronnie James Dio Stage: AMON AMARTH / Blind Guardian / Testament / Decapitated / Soilwork / Devilment / Whitechapel / Chelsea Grin / Forever Still
Friday S.O.P.H.I.E. Stage: INQUISITION / Lionize / Shrapnel / Black Moth / Season's End / Dendera / Morass of Molasses / Corpsing / Endeavour / Internal Conflict / Iron Rat
Saturday Ronnie James Dio Stage: GHOST / Kreator / Hatebreed / Municipal Waste / Annihilator / King 810 / Havok / Winterfylleth / Fallujah
Saturday S.O.P.H.I.E. Stage: MACABRE / Xentrix / Ohhms / Red Rum / Florence Black / Gods / Abhorrent Decimation / The One Hundred / Kroh / Eradikator / Blind River
Sunday Ronnie James Dio Stage: MEGADETH / Arch Enemy / Skindred / Hell / Obituary / Possessed / Brujira / Venom Prison / Broken Teeth
Sunday S.O.P.H.I.E. Stage: WINTERSUN / Bossk / Arthemis / Criminal / Oni / Wolfheart / Puppy / Courtesans / Wretched Soul / Blind Haze / Gravil
During the 2017 show it was announced that Nightwish would be coming back to Bloodstock for the first time in a decade. A very different beast than had headlined in either 2003 or 2008 and now with experience of topping some of the biggest events of the European Metal scene. Also announced to headline were Gojira – a band we'd seen move further up the bill with every appearance.
For years the call for Judas Priest had been deafening and, early September 2017 it was finally announced that the Metal Gods would be descending on Bloodstock in 2018. Twisted Sister, Alice Cooper, Motorhead and Slayer had already headlined but it was the confirmation of the Priest that solidified Bloodstock as the Bona Fide Metal Event in the UK calendar.
With those headliners in place the rest of the bill slotted into place with more cohesion than 2107. Emperor would return as Priest's special guests, this time playing Anthems to the Welkin at Dusk record end to end. At the Gates would be back to replicate the Sunday bill of ten years before; and who else but Mr Big to bring some much-needed levity to the proceedings.
Cat and Paul's constant haranguing finally saw Suicidal Tendencies come to Bloodstock, through flight difficulties meant their main stage slot was taken by Love Bites and they were moved to the S.O.P.H.I.E. stage. In many ways the tent suited Suicidal as their energy became focused in such a smaller area and produced a mass of bodies the likes of which Bloodstock had not seen before. With Dave Lombardo on the kit, finally getting to Catton Hall, ST delivered a short set but probably the best set ever played under Bloodstock canvas.
There was much call for the wearing of Hawaiian shirts to celebrate Cannibal Corpse's set and their appearance in Ace Ventura. By the time the Death legends took to the stage however, the weather was anything but Hawaiian and the deluge saw people heading for the tents to catch Exhoder's UK debut, Slaughter in the Vatican and all.
The tents had really taken a step up for 2018 with headliners who had all previous graced the Ronnie James Dio stage over the years. Metal Empress Doro could do no wrong and Watain's show to close out Sunday was atmospheric and crushing and where Black Metal should be played at Bloodstock.
Thursday: ARKONA / Bloodshot Dawn / Skilltron / Fire Red Empress / Hundred Year Old Man
Friday Ronnie James Dio Stage: JUDAS PRIEST / Emperor / Kamelot / Lovebites / Bloodbath / Wednesday 13 / Memorium / Onslaught / Reed the Rhino
Friday S.O.P.H.I.E. Stage: DORO / Bleed From Within / Suicidal Tendencies / Ingested / De Profundis / Reprisal / Sodomized Cadaver / Godrhythm / Fahran / Mortishead / Deity's Muse
Saturday Ronnie James Dio Stage: GOJIRA / Cannibal Corpse / Alestorm / Combichrist / Venom, Inc. / Septic Flesh / Orden Ogan / Power Trip / Nailed to Obscurity
Saturday S.O.P.H.I.E. Stage: ORPHANED LAND / Exhoder / Voyager / A Forest of Stars / Vola / Conjurer / Dead Label / Weight of the Tide / Limb / Forgotten Remains
Sunday Ronnie James Dio Stage: NIGHTWISH / At the Gates / Devil Driver / Mr Big / Jasta / Fozzy / Amatanthe / Evergrey / Monument
Sunday S.O.P.H.I.E. Stage: WATAIN / Pallbearer / Act of Defiance / Mantar / Demonic Resurrection / Underside / Sangre / Alien Weaponry / King Leviathan / Uncured / Doomsday Outlaw
Controversy stalked Bloodstock 2019 from February onwards after the not-so shocking announcement of Parkway Drive as Saturday headliners. Sabaton had been in situ for some time and Scorpions were a welcome surprise; but it was the Byron Bay act who ignited the forums and triggered many a keyboard warrior.
The animosity got so bad at one point it forced the organisers to make an appearance on social media and calm everyone down. Those controversies of the past, be they Europe, Hatebreed, Trivium, King 810 or Suicidal Tendencies had nothing on Parkway Drive-gate. And all those who scoffed – well come the show they certainly had egg all over their faces.
2019 was hit more than any previous year with cancellations for whatever reason. Code Orange withdrew to finish work on Underneath a few weeks ahead of time and they were replaced by The Wildhearts. No secret that Underneath is one of my favourite records of 2019 so far and I would loved to have seen Code Orange on the bill. But it's The Wildhearts, so Code… who?
A mere days before the show Dimmu Borgir were forced to pull out, leaving a sizable hole in the Sunday proceedings. Batushka was drafted in but were never going to be big enough to plug the gap. In the end the elements did some rearranging and fixed the problem.
As though 2019 was a warm up for 2020, Nature decided to intervene in the fun. We pitched camp under blistering skies on Thursday, yet we had flash downpours on the Friday. Campsite security went round to every tent on Saturday morning advising people to lower flags and dismantle gazebos as there was a storm coming in. A look at the cloudless sky made that possibility a long-shot but security was adamant the flags would be gone if they weren't lowered.
All started swimmingly enough. The Wildhearts played an awesome show as expected and we were all expectant for Cradle of Filth's return to Catton Hall after ten years away. Then nothing. The industrial lighting riff used the previous night by Sabaton was lowered to stage level as the wind picked up. And picked up. And picked up...
Concern was being expressed as to whether the rest of the show would go on. Generation Kill's S.O.P.H.I.E. appearance already cancelled due to ferry issues. Cradle were to be delayed by twenty-four hours and would now play Sunday, pushing Queensryche in the Special Guest slot and moving Batushka into a more suitable slot in the tent.
And then we waited some more...
It was getting to the point that we feared the rest of the day would be cancelled but, kudos to the crew who grafted as soon as it was safe to do so and allowed Anthrax to take the stage for a truncated show and Parkway to consolidate their place at the summit of modern metal.
Sunday saw the wind having gone only to be replaced by rain of Biblical proportions. Aborted's Death Metal assault drove though the wall of water while the campsite was awash with debris and I'm sure I saw a couple of lads marking out the dimensions of an Ark.
The rain eventually abated but remained to make a few guest appearances throughout the rest of the day. Cradle of Filth's return was triumphant, as was Queensryche's, who played all the tracks from the back catalogue this long-time fan feared they wouldn't.
Which brings me to the Scorpions. The first Bloodstock band to have a vanity ramp at the front of the stage, there was something of the cabaret about the German legends. Still Loving You, The Zoo, the obligatory Winds of Change and, of course, Rock You Like A Hurricane.
As the last notes faded into the chilly Sunday night thoughts turned to 2020. With the biggest announcement yet made at the festival we could already look forward to Sacred Reich, Voi-Lence, Skindred, Butcher Babies, Dark Tranquillity and The Black Dahlia Murder.
As time progressed Bloodstock had constructed one of the best line-ups for 2020, with the return of Judas Priest, Behemoth and Devin Townsend as headliners and additions to the bill in the shape of Life of Agony, Paradise Lost and Orange Goblin.
Then someone ate a bat, and the world fell apart...
Thursday: ROTTING CHRIST / Ten Ton Slug / Footprints in Custard / Blind River / Barbarian Hermit
Friday Ronnie James Dio Stage: SABATON / Powerwolf / Tesseract / Children of Bodom / Soulfly / Metal Church / Death Angel / Xentrix / Incite
Friday S.O.P.H.I.E. Stage: GRAND MAGUS / Raging Speedhorn / Countless Skies / Suplher / Karybdis / Damnations Hammer / Bong Cauldron / Def-Con-One / Blasphemer / Control the Strom / Zealto Cult
Saturday Ronnie James Dio Stage: PARKWAY DRIVE / Anthrax / The Wildhearts / Thy Art is Murder / Evil Scarecrow / Swallow the Sun / Cancer Bats / Krysthia
Saturday S.O.P.H.I.E. Stage: TAAKE / Skeletal Remains / 3 Headed Snake / Hellheim / Dust Bot / Red Method / Guardians of Time / Lotus Eater / Odd Crew / The Parallax Method
Sunday Ronnie James Dio Stage: SCORPIONS / Queensryche / Cradle of Filth / Dee Snider / Hypocrisy / Soilwork / Ross the Boss / Aborted / All Hail the Yeti
Sunday S.O.P.H.I.E. Stage: ELUVEITITE / Batushka / Blood Red Hourglass / Vioblast / Crescent / Resin / Boss Keloid / Wheel / Solitary / Witch Tripper / Harbinger
Bloodstock has always been at the forefront of promoting new bands. The New Blood Stage features a full day of music by some of Metal's rising stars, all of which are fed through the Metal to the Masses competition which sees regional heats taking place all over the country.
For some bands it's the pinnacle of their career but for some it acts as a springboard, giving exposure and gathering new fans who might not have otherwise seen them. Ward XVI's Saturday morning performance in 2107 being a notable example of this, with plenty of their shirts on view for the rest of the weekend.
The New Blood Stage is one of Bloodstock's unique selling points and I fervently hope remains a cornerstone of the brand for years to come.
Undeterred by current events, Bloodstock, along with the likes of Download, Hellfest, Graspop and Wacken – in fact the whole gamut of music events across the globe – have been forced to close their doors this year and act as though 2020 never happened.
At the time of writing, Bloodstock is looking to have maintained the majority of its 2020 bill intact. Behemoth have yet to reconfirm their status as a headliner and the show will move from four days to five. The countdown has already begun to 2021 and I'm sure there will be many tears shed by the faithful on the weekend of the 6th to 9th August over the things that cannot be.
This fallow year does provide a good opportunity to stop and reflect where the festival has come from and where it's going. It feels as though there has been a battle for the soul of Bloodstock quietly raging for the past few years, between those traditionalists and gate-keepers of the original spirit of those Assembly Rooms shows, and the modernists who see the changes at Bloodstock as being evolutionary rather than revolutionary.
Ultimately, the organisers are the ones best placed to make those decisions. It is, after all, their baby we're talking about. Personally, the bands that have generated the most controversy in recent years have been the ones that have interested me the most: Parkway Drive, King 810, Hatebreed and, yes even Europe. And I believe that interest has been rewarded with some great shows.
Moving forward I think I'd most like to see Whitesnake tread the Bloodstock boards. Who else has earned their place at the table? And to see Mr Coverdale, et al headlining one last British music festival would be something special indeed.
But Bloodstock often manage to defy expectation with some their bookings. I hadn't even considered the Scorpions for last year or that they'd manage to get Judas Priest when they already had Gojira and Nightwish confirmed in 2018.
The only people who really know who'll be playing Bloodstock next are those responsible for booking the acts. It always makes it interesting to wait for those 11 o'clock Tuesday announcements and long may that continue.
As I've rambled on for circa 13000 pages I suppose I'll close off with a list of highs from the past eighteen years. These are purely my personal picks so if you disagree with me, well, that's entirely your right to do so.
Five favourite festivals: 2015 / 2012 / 2009 / 2005 / 2011
Favourite indoor show: 2003
Five favourite main stage headliners: Rob Zombie / Emperor / Parkway Drive / Twisted Sister (2010) / King Diamond
Favourite indoor headliner: My Dying Bride
Five favourite main stage special guests: Emperor / Anthrax (2016) / Morbid Angel / Watain / Carcass
Five favourite S.O.P.H.I.E. headliners: Orange Goblin / Watain / Godflesh / Acid Reign / Rotting Christ (2019)
Biggest disappointment: Heaven & Hell not being able to play (2010)