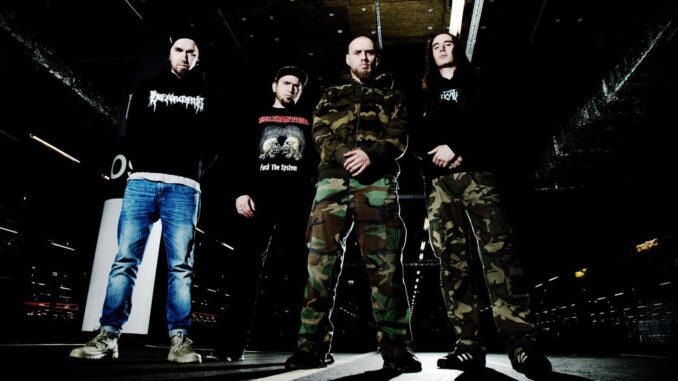 PREMIERE: Infiltration New Album 'Point Blank Termination' - Streaming Now!
Here at The Razor's Edge we are delighted to be able to bring to you the premiere of Infiltration's new album - Point Blank Termination!
We hand over to the band to introduce you to this beast!:
"This October sees the arrival of our debut record. This is a heavy guitar riff oriented album that blends relentless drumming, a walls shattering bass tone and some intricate solos. We take influences from the likes of Napalm Death and Bolt Thrower, but sometimes we also throw in Pantera-sque guitars for good measure.
It seems like we simply couldn't find a better label to release our debut as it is clearly Time to Kill!"
Prior to its worldwide release on Friday, you can listen to the album right here and now!
"Point Blank Termination" represents the logical next step in the music development of the Russian death metallers. Their brand of groovy death metal does not lend itself to one particular era or sonic reference point. Battle hardened and steeled for the next campaign, INFILTRATION are ready to deliver this bellowing war-cry.
"Point Blank Termination" tracklist:
01. Plunged into Decimation
02. Missing in Bodycount
03. Sniper's Creed
04. Collateral Damage
05. Rabid Bloodshed
06. Missiles Over the Minefields
07. Radiation Storm
08. Absolute Brutality of Terror
The members of INFILTRATION first came together in 2017 with one goal in mind: to pay homage to some of their favorite death metal, give it their own heavy twist, and to have a blast doing it.
The band's line-up features experienced musicians who used to be involved with such bands as Free At Last, Hellbomb, Chamber Of Torture, Katalepsy, Abnormal, and who shared the stage with iconic acts such as Cannibal Corpse, Carcass, Suffocation and Broken Hope.
In 2017 the band recorded the debut EP "Nuclear Strike Warning", which was very well received by both critics and fans, and made quite a stir in the local music scene. The band also released a single and a lyric video for the song "The Art of War", supporting the release.
During 2018-2019 the band continued to give live performances, both locally and abroad, all the while, writing and recording the material for the debut full-length album. The autumn of 2019 proved to be a very prosperous time: the band opened for legendary Napalm Death, in front of fully packed venue. Also in September INFILTRATION released the "Missing in Bodycount" single, off the upcoming album. Shortly after the gig the band decided to release another lyric video, for the song "Radiation Storm", this time via the Slam Worldwide Youtube channel. The clip rapidly gained popularity and positive feedback.