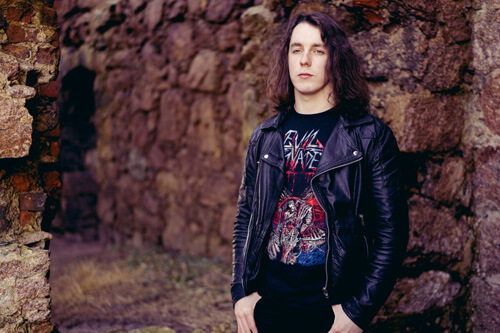 Album Review: Hellripper - The Affair Of The Poisons
Reviewed by Jon Wigg
Scottish solo project Hellripper is the brainchild of James McBain. A blackened thrash maelstrom, McBain wrote and recorded 'The Affair Of The Poisons' at home with some vocal and guitar contributions from friends. McBain also mixed the album himself, proving his prodigious talent and potential.
From the off, the importance of melody, even in the more extreme parts of the album is clear. The title track is the opener, and after a stomping start, an almost NWOBHM feel kicks in before the thrash takes over. A great start. The riffs here are strong and well written, and some nice changes of pace within tracks helps the album flow and prevents it from becoming "samey". 'Spectres Of The Blood Moon Sabbath' is a good example of this with thrash, traditional and stoner metal mixing well together.
McBain proves his musical chops with excellent playing throughout, notably the guitar parts on 'Vampire's Grave' and 'Beyond The Convent Walls'. A punk vibe also pokes its head through in the latter tracks particularly in the excellent 'Blood Orgy Of The She-Devils' which bounces along really nicely. There are no weak tracks here and the songwriting is good throughout. None of the songs are overlong, ranging from 3-5 minutes and with 8 tracks in total, the album is over before it can fully batter the listeners senses and outstay its welcome.
There is a real mixture of influences - Venom, Motorhead, Metallica, NWOBHM - and Hellripper mix them together into a delicious brew. The vocals are of the extreme sort and fit in well for the main, however a little more singing could have fitted in a bit better with the more melodic tracks, although this is only a minor point. Lyrically, the themes are metal staples - witchcraft and the occult - with some of the songs based on historical events (title track and 'Beyond the Convent Walls') and Scottish legend ('Vampire's Grave).
'The Affair Of The Poisons' is a great album from a young talent. There is nothing new here but the whole piece is fantastic to listen to and I'm certainly looking forward to what James McBain produces in the future under the Hellripper banner.