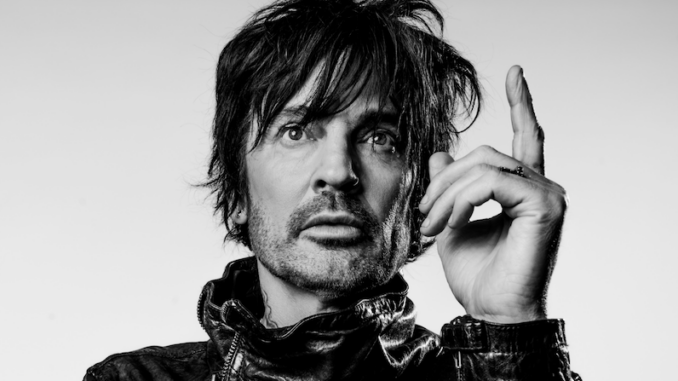 Album Review: Tommy Lee - Andro
Reviewed by Tim Finch
Tommy Lee is one of the most recognisable names from heavy metal in the wider world. From his time in Mötley Crüe, including well publicised bouts of excess, to his infamous relationship with Pamela Anderson and more beyond. Tommy is a name familiar to literally everyone.
This week see's Tommy release his latest solo album, but one listen to it may shock even the most hardened Tommy Lee fans. 'Andro' is a collection of songs written by Tommy but featuring vocal performances from a whole host of artists. One thing to state before we delve into this a quick warning... Mötley Crüe this is not! Even Methods of Mayhem this is not! If you are a fan of Tommy's previous work, if you like the style of heavy metal and hard rock he is famous for, you may not like this.
So with that in mind, let's delve into 'Andro'. Opening track 'Knock Me Down' features the lyrical performance of Killvein - a hip hop artist by all accounts (I googled). The track is the heaviest on the album, the real rock tune of the recording, but vocally Killveins hiphop background shows through. A meld of rap and rock but different from anything we've seen in that style before. It's actually not a bad number, but one of the few songs on this album I can say that about.
'You Dancy' features Canadian singer Lukas Rossi and with his back ground I honestly expected more. Still far from a bad tune, it's a meld of rock and dance with a strong vocal performance, but the music leans more on the dance side and it's where the more traditional Tommy Lee fan will start to lose interest.
As the album progresses it heads further and further away from Tommy's roots and features performances from Pavan Mukhi, Shotty Horroh, Push Push and more. All celebrated artists in their own right. As a musical entity the album isn't bad, it actually has a place in the musical world where it will no doubt garner many fans. But we look at this from the perspective of a heavy metal and rock fans, it's who we are as a media outlet, and from that perspective this album really doesn't slot into our listening spectrum.
Fans of Tommy Lee as an individual, fans of hip hop, dance, rap - fill your boots, you'll probably love this. Fans of Mötley Crüe's back catalogue, of rock and metal and things heavy - you are probably best off giving this one a miss.