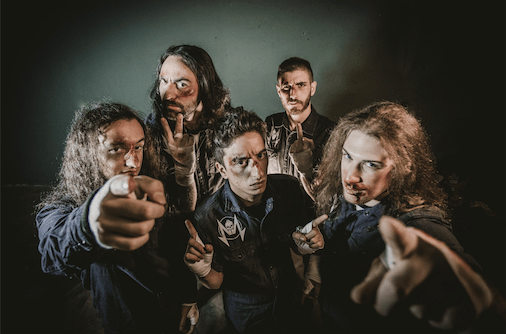 PREMIERE: Netherblade New Album 'Reborn' - Streaming Now!
Here at The Razor's Edge we are delighted to be able to bring to you the premiere of Netherblade's new album - Reborn!
We hand over to the band to introduce you to this beast!:
"It's finally here: our new album is about to be unleashed upon mankind! 'Reborn', our debut record, is in fact a thrash metal anthem that encourages you to move forward and not give up, despite the adversities encountered along the way. An anthem that inspires us to embrace hope and to instil hope, as quoted in the lyrics of the title track.

We are very happy with how the record came out and we would like to take this opportunity to thank Max Iantorno (Apocalypse Extreme Agency), Luca Pessina (Anubi Press), Dark Hammer Legion and Volcano Records for making this release possible.

A special thanks also goes to Carlo Meroni, a great producer who always made sure everyone in the band gave 100% in the studio".
Prior to its worldwide release on Friday, you can listen to the album right here and now!
Italian thrashers NETHERBLADE are back with their first full-length album, "Reborn". Showcasing a ruthless attack of pure thrash metal in its most intense and catchy form, "Reborn" will be released on October 16th 2020 through Dark Hammer Legion/Volcano Records.
Having channelled their primal instincts with simple yet effective fare on a couple of singles and an EP in four years, the band on their debut album sound straightforward while occasionally offering some acutely atmospheric and almost progressive moments, bearing comparisons with Exodus, Death Angel, Artillery and even old Machine Head.
"Reborn" tracklist:
01. Overture
02. Eyes of the World
03. Reborn
04. From the Abyss
05. 'till the End
06. Braindamage
07. Killing Spree
08. Wasted Generation
09. Netherblade
10. Nothing is Real