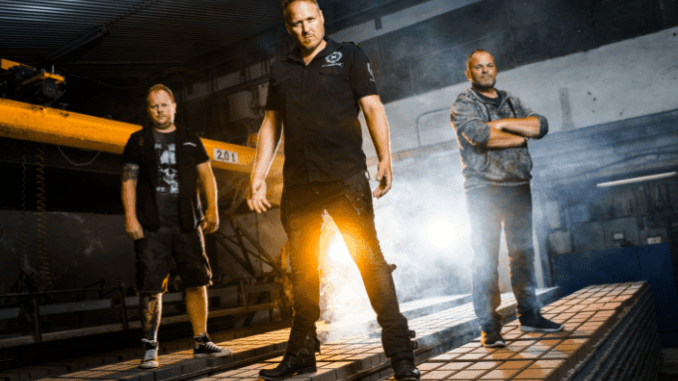 Album Review: Communic - Hiding From The World
Reviewed by Paul Hutchings
For 17 years Norwegian progressive metal trio have been a band that have developed and expanded their sound. Their 2005 debut 'Conspiracy of Mind' certainly caught attention and the band has continued with its intricate weave of rich emotional progressive metal, underwritten by aggressive elements of thrash, doom and death. 2017's 'Where Echoes Gather' saw Communic sign to AFM records and maintain their upward trajectory. If you are unfamiliar with the band, the obvious (and maybe lazy) comparisons are likely to be Nevermore and Everygrey.
For a three-piece, their sound is impressively intricate and complicated. Rich vocal melodies and harmonies are a consistent factor in their music, whilst they also lace their highly skilled music with a savage and powerful undercurrent. Check out the nine-minute title track, which ebbs and flows, brimming with melody and explorative breakdowns, there are also segments where the riffs explode with a ferocity that burns.
Communic don't often write short songs. With the exception of the one-minute 'Soon To Be', the compositions here are lengthy epics, with four passing the eight minute mark. Full of tension and atmosphere, there is still a feel of innovation and experimentation despite this being the band's sixth album. My only minor criticism is that there may be too much going on which makes it challenging to take absorb in one go.
Recording began at the beginning of 2020, halted for a while, and then restarted as the pandemic cast its shadow over the globe. More diverse than previous releases, Communic have incorporated a variety of styles once more including some searing guitar work and even the odd round of blast beats. 'Scavenger's Await' for example, is a face melting slab of heaviness. It makes for an intriguing album with themes that fit into the current worldwide atmosphere. As well as the apt but purely coincidental title of the album, vocalist/guitarist Oddleif Stensland has captured in the lyrics the legacy of what we leave behind. "I wrote these songs with a feeling inside that my life could end tomorrow, this could be the last thing I leave behind as my legacy'. Combined with the imagery created by Travis Smith on the album artwork, the feeling of despair seeps throughout the record, although Stensland is keen to point out that there is always hope!
If you are a fan of Communic, it's likely that this album will be received with positive vibes. If you are new to the band, then 'Hiding From The World' is an interesting starting point. Whatever your position, the musicianship and power that Stensland, Erik Mortensen (Bass) and drummer Tor Atle Andersen deliver is first class.