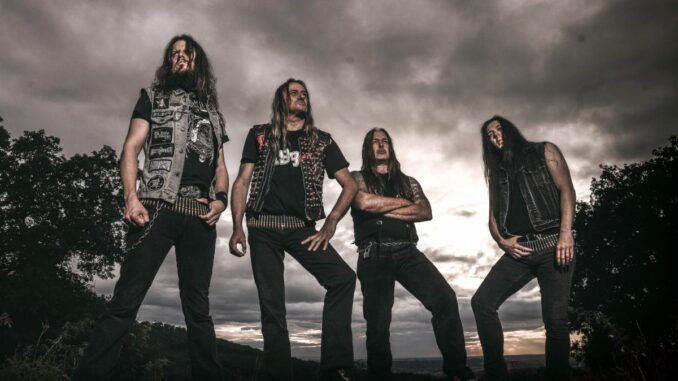 Album Review: Sodom - Genesis XIX
Reviewed by Gareth Pugh
A new album from Teutonic thrash legends Sodom is always a huge event in the metal world, and Genesis XIX, their 16th studio album, is no different. But in fact, it is different. You see, Genesis XIX is Sodom's first release as a four piece, and the first with guitarist Frank Blackfire since 1989's 'Agent Orange'! Yes, it's really been 31 years since that seminal album's release.
I often see Sodom unfairly tarred with the brush that they release the same sounding album all the time, well that isn't strictly true, sure they have that Venom/Motörhead bassist/vocalist persona, but early on they were very much a blackened speed metal band, and not a particularly very good one, with two fairly lacklustre releases in 'The Sign of Evil' E.P. and 'Obsessed With Cruelty' debut full length. It wasn't until they recruited said guitarist; Frank Blackfire and released the very much improved 'Persecution Mania', that the band garnered the reputation they have today, moving away from the almost childish horror and occult themes and started tackling much more mature subjects such as anti-war, social and political topics, Frank also changed the band musically to very much a thrash sound, with a much more accomplished musical philosophy. This continued, with arguably their best (certainly their most famous) album, the aforementioned 'Agent Orange', which saw them improve the song-writing, musicianship and production even further.
Then disaster struck, and Frank left to join fellow German thrashers; Kreator. Tom steadied the ship somewhat and recruited Michael Hoffmann, from Assassin, for the follow up, the rather underrated 'Better off Dead', which contained a fair number of classic tracks the band still play today, 'The Saw Is The Law' probably being the most familiar. The next two releases 'Tapping The Vein' and 'Get What You Deserve' saw more member changes, Andy Brings replacing Hoffmann on the guitars and after 'Tapping..' saw original drummer Christ "Witchhunter" replaced by Atomic Steif, and the band experimenting with different styles: 'Tapping the Vein' was probably their heaviest release and was almost 'Death metal' in style, while 'Get What you Deserve' was an even more diverse, and controversial, change, with an almost a punk/crossover sound. 'Masquerade in Blood' saw yet another style and member change, and while 'Masquerade…' is probably Sodom's heaviest ever album, that's probably the only thing going for it, as the songs themselves are very poor and forgettable.
Then came a period of much more stability, with the introduction of long-time guitarist Bernd "Bernemann" Kost and drummer Bobby Schottkowski, starting with the slightly controversial 'Til Death Do Us Unite', mostly because of the rather tasteless cover artwork, musically it saw the band return to the punk/crossover sound of 'Get What you Deserve' but with a much more punchier production and better songs all-round. 'Code Red' saw the band release an album with the same line-up for the first time since 'Agent Orange', five albums previously, it also saw them return to the completely thrash based sound from the same said album.
The band since then has been very consistent, in both sound and line-up, with only Markus "Makka" replacing Bobby in 2010, releasing some really solid albums such as 'M16', the self-titled, 'In War and Pieces' and 'Epitome of Torture' right up until last release, the rather splendid 'Decision Day'. In fact the only curveball was the re-recording of the first release 'The Sign of Evil' E.P., where the band took the extremely cool option of using the original line-up, adding songs from the same time period, which they couldn't afford to lay down, and recorded them in a similar old school manner, and releasing it as a full length 'The Final Sign of Evil'. Then came the news after 'Decision Day', Bernemann and Makka were out, and Frank was back in the fold, together with, for the first time ever in Sodom's history, a second guitarist; Yorck Segatz and Husky on drums. Tom's reasoning for this was to get musicians that were local to the Ruhr area, so that they could consistently rehearse and write more frequently. They fairly quickly released a new single, 'Partisan' with two exclusive brand-new studio tracks and a couple of live tracks. This was followed 12 months later by an E.P., including the title track from 'Genesis XIX' (although this isn't the same as the album version), and two more exclusive studio tracks as well as a re-recording of 'Agent Orange' and a live take of the old classic 'Bombenhagel'.
So that brings us full circle, back to 'Genesis XIX', and yet another member change, with Toni Merkel replacing Husky on drums! So how does album 16 shape up? Well the first thing you notice before even hearing any music, is the quite stunning cover art, by Joe Petagno (Led Zeppelin, Hawkwind, Motörhead , to name but a few), it is easily the best cover art since 'Agent Orange', even topping the spectacular cover of the last album 'Decision Day', with the band's mascot 'Knarrenheinz' centre stage, amid some striking biblical acts of God. Those of you who are getting the vinyl version are really in for a treat. The second thing you notice is the production, it really has that old school sound to it, it's both raw and organic, the band choosing to record the album in the old fashioned way, by setting up microphones in front of their amps, rather than using digital effects, and mixing the whole album on an analogue desk, and that choice has led to the album really having its own knotty, grizzled character, yet with all the sonic clarity you expect in 2020.
The songs are classic thrash era Sodom, pure and simple, don't come here expecting layered harmonies, and soaring melodies, this is ugly, gnarly thrash metal, it does what it says on the tin. Starting with a reworked intro from their old live sets; 'Blind Superstation' sets the stage for opening track proper 'Sodom & Gomorrah', fast, heavy, that typical, slightly sleazy riffing, like Motörhead on steroids, it's an archetypal type track.
'Euthanasia' is a real explosion of a song, riffs flying about like shrapnel, and reminds me of their old 'Persecution Mania' album, a real pillar of a track. We've already had a taste of the title track, but here it sounds even better, re-recorded for the album, with a tighter arrangement, this really harks back to that classic period, the riffs are super tight and the main theme is just brilliant, both guitars in complete synchronisation, the quieter dynamic mid-section, highlighting the contrasting heavy verses and chorus, a future live favourite for sure. I'm not sure why but whenever a German band sings in their own language, it adds a new level of heaviness to the proceedings, and 'Nicht Mehr Mein Land' (Not My Country Anymore, oas a rough translation) is no exception, it might also have something to do with the alternating super heavy mid paced riffing and blast beats! I'm not going to go through the whole album track by track, but suffice to say, the band have every base covered here. If you like the shorter, more punk influenced songs; 'Indoctrination' and 'Dehumanized' are the ones for you, if you prefer longer more complex tracks, look no further than 'The Harpooner' and 'Waldo & Pigpen'. The first tackles the Herman Melville classic 'Moby Dick' while the later the tale of two American helicopter pilots in the Vietnam war (Pigpen and Waldo were their code names) and showcase both the musical and lyrical diversity of this album, 'Waldo & Pigpen' displays the band's use of dynamics beautifully. Elsewhere the wonderfully titled 'Glock 'n' Roll' tells the tale of a serial killer, with an appropriately dark soundtrack, whereas album closer is an absolute killer track, everything this band stands for is here in one tight three-and-a-half-minute package.
In conclusion, Genesis XIX sees Sodom return with an album that cements their place at the top of the Teutonic thrash tree, does it break any new ground, no, this is Sodom, doing Sodom, but doing it extremely well. If you weren't a fan before, I doubt this will change your mind, if you were already onboard, then you'll be happy as a 'Pigpen' in shit. Great return from a legendary outfit.