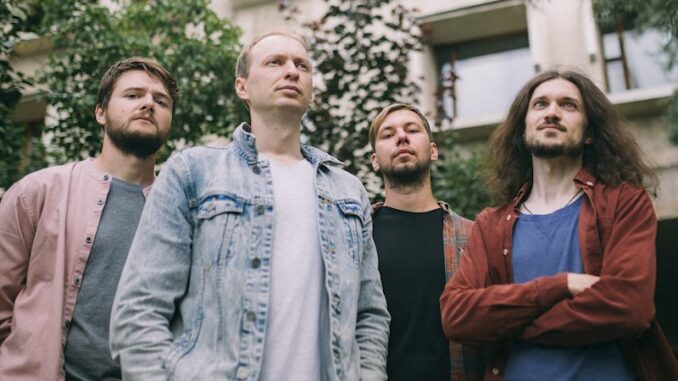 Album Review: Sealand Airlines - Sealand Airlines
Reviewed by Paul Hutchings
I'd never heard of Sealand Airlines but this progressive debut release from Ukrainian quartet is a delight from start to finish. The band comprises Andrii Davydenko – Keyboards, backing vocala, Mykhailo Kanafotskyi – Guitars, Artem Bemba – Bass, vocals, keyboards, violin, flute and Iurii Khomik – Drums, percussion, backing vocals. Each of the eight tracks on this debut release has a different approach which adds to the attraction.
The album opens with 'Garrison' which immediately envelopes you with its rich, thick Rhodes keyboards and layered melodies. A mix of 70s rock, 80s pop synths and driving beat changes the tempo on' Sailing Girl', with Bemba's alto vocals a real joy as they match the uplifting style fabulously. The swirling synths work superbly and these two tracks provide an immediate taste of something special, the influence of each band member obvious and welcomed. As a result, the rest of the album expands beautifully with a delicious anticipation for each song.
Exploring 'Sealand Airlines' is like unwrapping a box of high-quality chocolates. Each track contains separate flavours, influences, and experiences. Lyrically, the band draw on their fascination with movies and pop culture, adding in B-movie themes as well as liberal doses of science fiction. 'Railway Man' has a jarring opening but segues into a combination of Pink Floyd and Hawkwind in a space rock voyage before returning to the staccato style.
'Sealand Airlines' contains influences from each bandmate's personal tastes. There is jazz, funk, prog-rock, kraut, psychedelic, hard rock, electronic and synth-pop. The Rhodes keyboards are used to great effect; check out the 70s rock feel of 'Danger', with its rampaging keyboard riffs, gentle interludes and slightly psychedelia feel. The upbeat tempo of 'We Have What We Have', the luscious melody creating a warm glow with its happy feel and almost disco breakdown. 'Revenge' sees the band turn up the heat with a dirty, fuzzy riff dominating parts of the song but never smothering it. There is clever use of percussion, such as the bongos on the intro to 'Salia Ana', the penultimate track that skips along with stunning layered harmonies matched by some gentle but no less impressive guitar work. At just under seven minutes in length, this is the song which the band use to allow for some freedom of expression, the use of flute and a jazz flavour all combining neatly whilst there is also some expressive lead guitar work .
If had to look for bands for comparison, I'd draw elements of the Von Hertzen Brothers along with Camel, Van Der Graft Generator and Focus, but with a little slice of Kraftwerk and even A-Ha. It's that varied but all underpinned with a rock base. It's an album that grasped me immediately, and on repeated plays further joys were unlocked. It has a delightfully retro feel with an organic style that is also contemporary. Certainly not metal by any stretch, Sealand Airlines debut is a magically crafted release. If you fancy something a change, why not climb on board. It's a journey that may just excite you.
The album will be released by The Sign Records on November 27th, 2020.