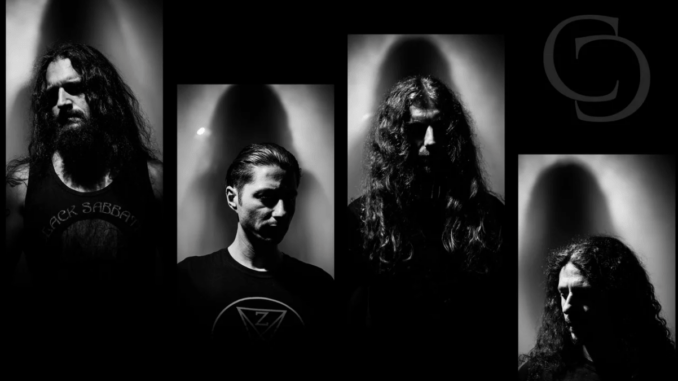 PREMIERE: Crawling Chaos New Video - Ishnigarrab, Or The Awful Offspring Of The Goat!
Here at The Razor's Edge we are delighted to be able to bring to you the premiere of Crawling Chaos's new lyric video for the track. The song 'Ishnigarrab, Or The Awful Offspring Of The Goat' is taken from their forthcoming album XLIX - due out next week.
We hand over to the band to introduce you to this beast!:
"In his route to conquer the throne and establish absolute power, the Prince, ultimate monarch, forces his will upon the world for the purpose of creating an idyllic Utopia. His obsession to replace Chaos with Order and the great, dreadful actions he's perpetrating are just clockwork maneuvers taken by someone – or something – sitting at the edge of the cosmic chessboard… He's echoing the unknown, He hears Her voice inside him...Everyone is Shub Niggurath's son".
You can listen/watch to the video and single right here and now!
Italian death metallers CRAWLING CHAOS will release their new album "XLIX" on November 20th 2020 via Time To Kill Records.
"XLIX", a concept album loosely based on "The Prince", the renown book written by Niccolò Machiavelli in the XVI century, was mixed and produced by renown Italian producer Simone Mularoni.
Devotees of influential modern death metal merchants like Fleshgod Apocalypse, Hour Of Penance and Decapitated have a new band to champion.
"XLIX" tracklist:
01. My Golden Age
02. The Prince Is Here
03. Block And A Bloody Knife
04. 49th, Or The Law Of Desperation
05. Ishnigarrab, Or The Awful Offspring Of The Goat
06. Covered In Debris
07. Doom Of Babylonia
CRAWLING CHAOS was founded in Rimini, Emilia-Romagna, Italy. In January 2009, the band released its first home-recorded EP, "Goatsuckers". Even if the EP got many positive reviews by the metal media, it was just an appetizer mainly distributed for promotional purposes.
In the following years, the band plunged deep in the writing process of new music. In December 2012, the band recorded its first full-length, "Repellent Gastronomy", at Domination Studios. Produced and mixed by Simone Mularoni, the album was released on November 2013 via Memorial Records.
In the wake of "Repellent Gastronomy"'s great reception, a work praised by many international metal webzines, the band's live activity took off: between 2013 and 2016, CRAWLING CHAOS played dozens of gigs all around Italy supporting international acts such as Suffocation, The Monolith Deatchult, Havok, Skeletonwitch, Hideous Divinity, Necrosy, Dark Lunacy and more.
In December 2019, the band re-entered the studio in order to record its second full-length, "XLIX", a concept album inspired by Machiavelli's notorious book "The Prince". Once again, the record was mixed and produced by Simone Mularoni.